6 most viewed speeches of UNGA 2015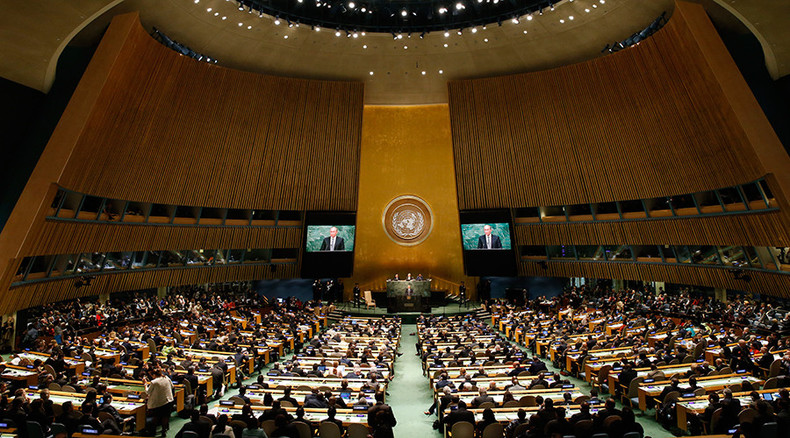 The UN General Assembly is perhaps the most captivating political show on earth, when the "Powers That Be" gather in New York City every year to discuss issues of universal importance and play geopolitics.
The speeches made by world leaders from the iconic dark green marble podium of the General Assembly Hall can either be a dull account of a country's successes and concerns – or make history.
READ MORE: Singing & shoe-banging: Five flamboyant leaders the UN General Assembly will never forget
The viewers of our YouTube channel have made their judgements on what they considered to be the most interesting speeches of UNGA 2015. Let the numbers speak for themselves:
Over 18,000 views: A fist-shaking Poroshenko condemned Russia for everything short of sorcery as the Ukrainian leader called for the revocation of Moscow's veto power in the UNSC.
Over 66,000 views: Surprisingly, President Obama admitted past mistakes in Libya, and said the US was ready to work with Russia and Iran to deal with the Syrian crisis.
Over 94,000 views: Iran's Rouhani praised the nuclear deal reached with global powers earlier this year, but couldn't resist lambasting Israel, describing it as the only obstacle to the agreement.
Over 102,000 views: In a Confucian manner, China's Xi Jinping, spoke of peace and development, while promising 8,000 troops for a standby force of UN peacekeepers and $1 billion in funding to support the work of the global body.
Over 220,000 views: Bibi Netanyahu, notorious for his blame-games and end-of-the-world rhetoric, threatened the world with the prospect of an "unleashed and unmuzzled" Iran that would go "on the prowl devouring more and more prey" – all due to the nuclear deal recently signed with Tehran.
Over 990,000 views: "Do you realize now what you have done?" Putin slammed the spread of NATO in Europe, and attacked the bloc for destroying Libya after machinations at the UN.
You can share this story on social media: