2 dead, 2 wounded, including 2-year-old, in Jerusalem stabbing attack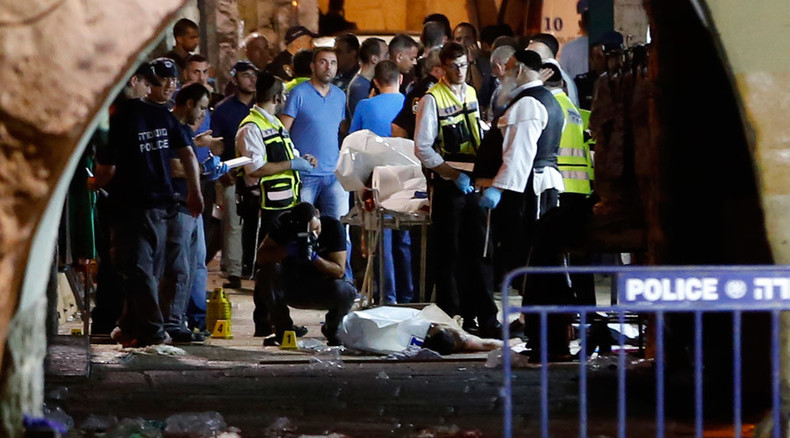 Two people were killed and two others, including a two-year-old toddler, were wounded in a stabbing attack in Jerusalem's Old City on Saturday evening. Israeli police fatally shot the attacker.
The incident took place near the landmark Lions' Gate when the stabber attacked members of the same ultra-Orthodox family.
2 people murdered in terrorist attack in old city, Jerusalem by palestinian terrorist this evening. Terrorist was shot and killed at scene.

— Micky Rosenfeld (@MickyRosenfeld) October 3, 2015
Two men have died from their wounds, police spokesman Micky Rosenfeld confirmed. A woman is in critical condition and a two-year-old boy sustained minor injuries.
The attacker was a member of the Palestinian militant group, Islamic Jihad, according to a statement from the group.
Heightened security continues in old city Jerusalem after 2 men murdered in terrorist attack. Extra units patrolling areas.

— Micky Rosenfeld (@MickyRosenfeld) October 3, 2015
"The terrorist approached a group of Jews, whipped out a knife and began stabbing," police spokesman Micky Rosenfeld said.
Following the stabbing the assailant took a gun from one of the wounded and opened fire at police officers who rushed to the scene. He was then shot dead by the officers.
"Border Police and Police responded immediately and shot the terrorist, neutralizing him. Police have cordoned off the area and are searching for a possible accomplice," the police spokesman said.
Just hours later, an Israeli teenager was injured in another stabbing attack near Jerusalem's Old City. The assailant was shot and killed by police as he tried to flee the scene.
Following the attacks, the entrance to Jerusalem Old City has been limited for two days, and allowed only for local residents and people working there.
Also, tourists and students are permitted.
Entrance to the Temple Mount for Muslims will be limited to males of 50 and above, with no restrictions on female Muslims.
The incidents amid growing tensions between Israelis and Palestinians in the wake of other recent attacks.
An Israeli couple traveling with their four children was shot dead in their car by a suspected Palestinian gunman in the occupied West Bank on Thursday. The shooting happened not far from a Palestinian village where suspected Israeli arsonists set fire to a home, killing a toddler and his parents two months ago.
Another flagrant attack took place last week at a Hebron checkpoint when an 18-year-old Palestinian woman was shot dead by Israeli troops after refusing to show her purse or face. She died of multiple wounds in hospital after bleeding in the street for 30 minutes.