Narrow escape: Boy steps aside seconds before car slams into same place (VIDEO)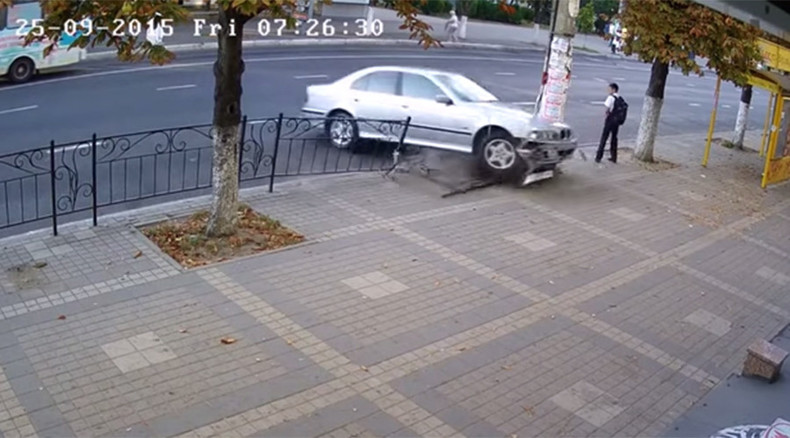 Miracles really do happen, this incident proves. Check out how a little boy in the Crimean capital of Simferopol managed to escape death by merely making a small step, seconds before a car went crashing into the area he had just departed.
The BMW was driving at an incredible speed when the driver lost control of the vehicle, causing it to violently crash through the fencing against which the boy had been leaning.
The video shows the schoolboy standing near the roadside and leaning on its railings.
Seemingly bored, the kid crushes and kicks something on the asphalt, and then leaves the spot, but only going a few steps away from the roadside.
READ MORE: Shard shower: Girl dodges death as glass rains down at E. Ukraine stadium (VIDEO)
In that moment, the terrible screeching of tires is heard, and…wham! The car slammed right into the fence, tearing through it like paper.
READ MORE: Huge glass panel falls inches from Saudi man's head (VIDEO)
The boy, who was at that point just out of the way, jumped and ran off in shock, while the car just stood there, its lights blinking.
The video was captured on a surveillance camera, and the incident occurred last Friday at 7:26am.