Shard shower: Girl dodges death as glass rains down at E. Ukraine stadium (VIDEO)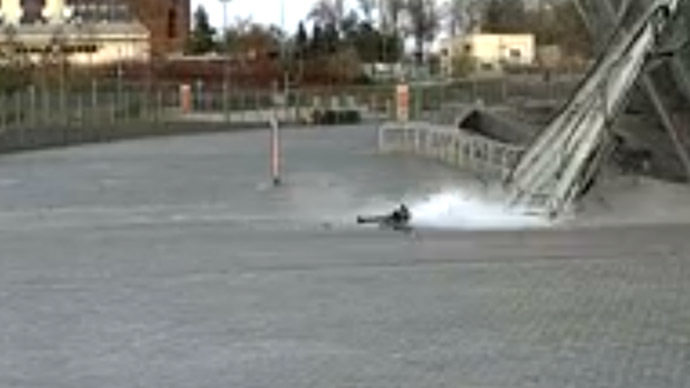 A Ukrainian girl narrowly escaped death as a huge piece of glass façade broke off Shakhtar Donetsk's Donbass Arena and crashed right in front of her. The incredible moment was caught on CCTV.
The video shows a small-statured girl walking towards the stadium. When a loud blast is heard she falls to the ground. In a second an enormous mass of glass plummets earthward and shatters, barely missing the prone child.
While the figure in the video is vague, Reuters said it looks like the passerby was little a girl.
A man is seen rushing to the girl, picking her up and walking her safety.
Luckily, the girl seems to have no serious injuries. As she was helped on her feet, she and the man rushed inside the stadium.
The accident coincides with an explosion a chemical factory in Donetsk that happened on Monday. Local militia claim the plant was targeted by a tactical Tochka-U missile (SS-21 Scarab).
READ MORE:Blast rocks chemical plant in Donetsk, claims of tactical missile
The 52,000-seat Shakhtar Donetsk's Donbass Arena, where five of the Euro 2012 football games were held, was one of the many buildings damaged by the blast wave across the city.
Numerous pictures on Twitter showed the Arena's shattered glass façade.
Стекла выбиты по всему #Донецк проверяем инфу что били Точкой У pic.twitter.com/ztut0vseWI

— Roman Kosarev (@Kosarev_RT) October 20, 2014