'Counter to Islamic law': Saudi diplomat refuses to discuss gay rights at UN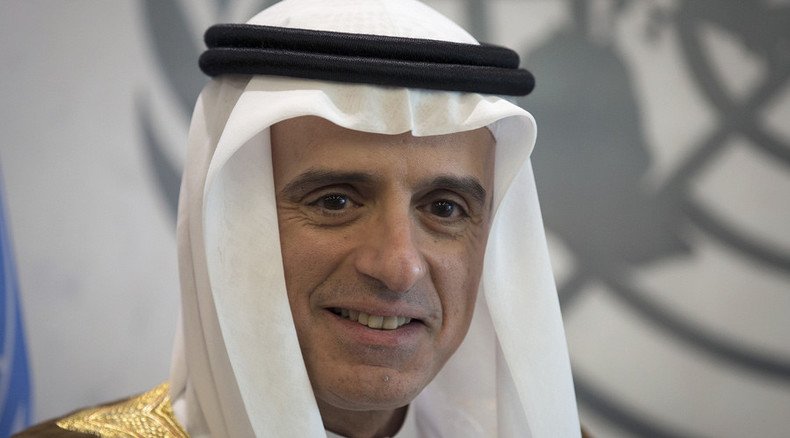 Saudi Arabia has protested any references to homosexuality in a new UN development program, saying it is "counter to Islamic law." Punishments for those engaging in same-sex relationships in the absolute monarchy are brutal, such as being stoned to death.
The protest was made by Saudi Foreign Minister Adel Al-Jubeir, who told the UN General Assembly that "mentioning sex in the text, to us, means exactly male and female. Mentioning family means consisting of a married man and woman," AP reported.
He stated that Saudi Arabia had the right not to follow any agenda that runs "counter to Islamic law."
The Sustainable Development Goals program, amongst other things, will look to ensure universal access to sexual and reproductive health and reproductive rights by 2030.
Homosexuality is illegal in Saudi Arabia, as is the case in much of the Middle East. If someone is found guilty of engaging in same-sex relations, the punishments can be extremely severe.
Under Sharia law, which is practiced in the country, any married man found engaging in sodomy, or any non-Muslim who commits sodomy with a Muslim can be stoned to death. Execution, chemical castration and imprisonment are some of the other punishments that can be handed out for those found guilty of homosexuality.
This latest controversy as Faisal bin Hassan Trad, Saudi Arabia's ambassador at the UN in Geneva, was recently appointed the head of a panel of independent experts on the UN Human Rights Council.
Trad was given the honor, despite reaffirming Riyadh's opposition to gay rights in July at a UN Human Rights Council meeting, where he said calls for Saudi Arabia to support rights for same-sex couples were "unacceptable" and a "flagrant interference in its internal affairs."
The decision was slammed by the non-governmental organization UN Watch, who have asked US Ambassador to the UN Samantha Power and EU Foreign Minister Federica Mogherini to condemn the decision and work to reverse the appointment.
"It is scandalous that the UN chose a country that has beheaded more people this year than ISIS to be head of a key human rights panel," said UN Watch executive director Hillel Neuer. "Petrodollars and politics have trumped human rights."
Neuer was referring to the fact that by the end of August, Saudi Arabia had already beheaded 175 people in the last 12 months, according to the human rights group Amnesty International.
Amnesty states that the lack of a criminal code in Saudi Arabia's justice system is making things much worse, as this allows crimes and punishments to be interpreted as the prosecutor sees fit.
For certain crimes, which are punishable by tai'zir (discretionary punishments), one only has to be suspected of an offence for the death penalty to be invoked, based on the severity of the crime or the character of the offender.
Meanwhile, earlier in September, Saudi Arabia upheld a decision to hand down a death sentence to Mohammed al-Nimr. He will first be beheaded and then his corpse will be crucified. His alleged offense to take part in anti-government activities in 2012, when he was just 17 years old.
This led to hacktivist group Anonymous attacking Saudi government websites over the sentence and its horrific human rights record,
"Ali Mohammed al-Nimr, an innocent young teenage boy, has been sentenced to death in Saudi Arabia and we will not stand by and watch," Anonymous said in a statement directed at Saudi Arabia. "Naturally, the sentence was appealed but the appeal hearing was held in secret and apparently dismissed."
The UN has said al-Nimr's trial fell "short of international standards" and asked Saudi Arabia to halt the execution. Human rights groups, including Amnesty International, have alleged that Nirm was tortured and forced to confess to some of the charges.
The sentence of crucifixion likely means that Nimr is set to be beheaded before his body is displayed on a cross in a public place.
LISTEN MORE:
You can share this story on social media: