Apple under probe in Russia over same-sex Emojis – report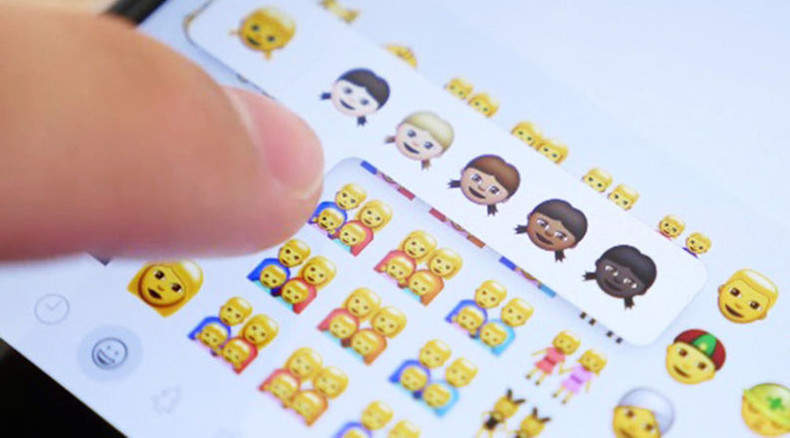 Apple is reportedly facing an investigation for "illegally promoting" homosexuality in Russia, local media says. Russian forensic experts are to check the iPhone maker's Emojis picturing same-sex couples and parents that preload with iOS 8.3 and later.
Officials in Russia's Kirov region launched an administrative case after a local attorney, Yaroslav Mikhailov, complained that Apple was violating the law, news portal Gazeta.ru reports. Mikhailov argues that Apple's Emojis violate Russia's controversial legislation banning the propagation of same-sex relations in the presence of minors.
The new Emojis came with Apple's iOS 8.3 mobile operating system, as well as later versions.
It appears that the lawsuit was filed back in August, when copies of the Emojis were reportedly sent to regional forensics experts. It is now up to them to determine if the images can be qualified as "gay propaganda."
READ MORE: St Pete anti-gay crusader urges entry ban on Apple's Cook
In an interview with Gazeta.ru, Mikhailov said that he had initially sent his appeal to Russian children's rights ombudsman Pavel Astakhov, but his complaint was forwarded to local law enforcement in Kirov. His hometown police determined that there, indeed was, enough evidence to launch a formal investigation.
"My appeal was forwarded to the police of the Kirov region. As far as I know, a check was conducted by the Department 'K,' which deals with crimes in the field of information technologies. The police concluded that my complaint was justified, and opened a case on an administrative offense," the plaintiff told the news portal.
If it is proved that Emojis depicting same-sex couples and families violate Russia's law, Apple will face a fine ranging from 800,000 to 1 million rubles ($12,000 to $15,000). The punishment can go as far as suspending Apple's activities across Russia for up to three months, should the company be found guilty.
This is not the first time that Mikhailov has lodged such a complaint. He has already won compensation from Apple for inflating the prices for books in its iBooks application. In that case, he was paid 2,204 rubles (about $30 at today's exchange rate).
READ MORE: Removal of Steve Jobs memorial due to 'gay propaganda' law turns out to be PR hoax
Earlier this year, St. Petersburg lawmaker Vitaly Milonov, known for his controversially orthodox stance and anti-gay campaigning, also expressed outrage at Apple, saying that if the company wants to remain in the Russian market it must produce a "soft patch" tailoring its software to suit Russian legislation, just as it does for China.
Last year the same legislator suggested that Apple products should be banned in Russia because they are produced by a company headed by an openly gay CEO – Tim Cook.
In April, another member of the Russian government requested an investigation into Apple for distributing "gay propaganda" in the form of a U2 record that was preloaded on all users' phones as a "gift" along with an iOS update. A member of the right-wing LDPR party, Aleksandr Starovoitov, argued the Irish rock band's Songs of Innocence album promoted sex between men.
You can share this story on social media: