Marine Le Pen to face trial for comparing Muslim street prayers to Nazi occupation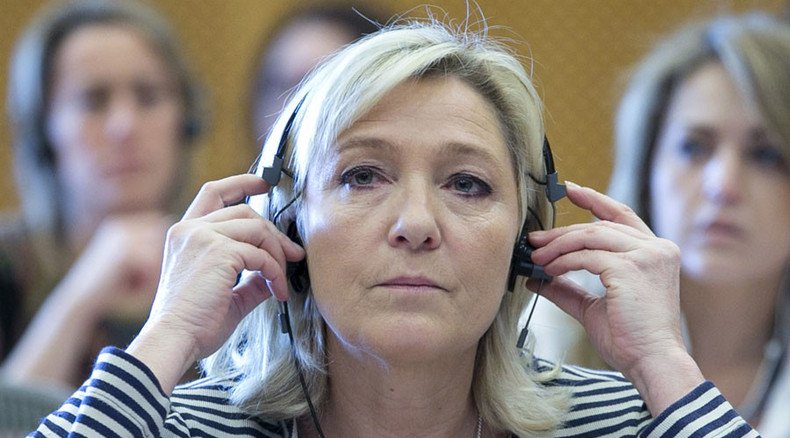 Marine Le Pen, the leader of the French National Front party, will appear before court on charges of incitement of religious hatred over comparing Muslim street prayers to the Nazi occupation.
Le Pen was ordered to stand before trial on charges of "incitement to discrimination over people's religious beliefs" on October 20, the prosecutor's office in Lyon said on Tuesday.
The charges that Marine Le Pen now faces date back to her 2010 speech when she was competing for the post of the National Front leader. At that time, speaking about Muslims praying in the streets outside mosques when they were full, Le Pen compared it to Nazi occupation.
"I'm sorry, but for those who really like to talk about World War Two, if we're talking about occupation, we could talk about that (street prayers), because that is clearly an occupation of the territory," she said at a rally of her supporters in Lyon in 2010.
"It is an occupation of sections of the territory, of neighborhoods in which religious law applies, it is an occupation. There are no tanks, there are no soldiers, but it is an occupation anyhow, and it weighs on people," she added.
Back in 2010, her comments provoked a wave of public indignation in France and Le Pen was probed for inciting racial hatred but her case was closed with no results.
Another complaint over this incident filed against her in January 2012 led to a new inquiry. Marine Le Pen was eventually charged in July 2014 after European Parliament voted for lifting her MP's immunity.
READ MORE: 'We must act now': France's Le Pen seeks presidency for migrant-stricken Calais region

On Tuesday, Le Pen vehemently reacted on the order to stand before trial.
"It is a scandal that a political leader can be sued for expressing her beliefs. Those who denounce the illegal behavior of fundamentalists are more likely to be sued than the fundamentalists who behave illegally," she told Reuters.
However, she said she would attend the trial. "Yes, of course. I wouldn't miss such an occasion," she said as quoted by AFP.
Amid the ongoing refugee crisis in Europe, the National Front, which is traditionally anti-EU and anti-immigration, rates high in the opinion polls. The party has already enjoyed several election successes since Marine Le Pen took the lead in 2011 and now some polls suggest it could potentially win regional elections in the France's northern Nord-Pas-de-Calais region.
READ MORE: National Front strengthens at local level, optimistic about presidential vote - Le Pen aide

Some other polls also show that the National Front could pose a serious challenge for both Nicolas Sarkozy's Republicans and Francois Hollande's ruling Socialists in 2017 presidential elections.
In the meantime, Le Pen is generous with loud statements as she has recently compared the refugee influx to Europe with the barbarian invasions of Ancient Rome and accused Germany of "exploiting the suffering of [refugees]" and recruiting "slaves" for its economy.
You can share this story on social media: