Man walks on track as F1 race in progress, halts Singapore Grand Prix (PHOTOS)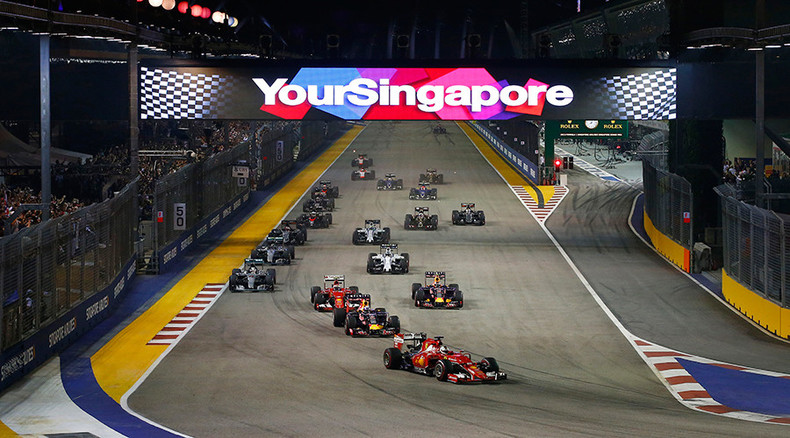 A safety car was deployed during the Formula One Singapore Grand Prix after a man was seen walking along the track.
The 13th round of the 2015 Formula One season was interrupted on lap 37 when a man in a dark top and in shorts was seen walking past the racing cars.
Race leader Sebastian Vettel was one of the first who saw the unexpected intruder. "There is a man on the track! A man on the track!" Vettel shouted over the team radio.
Formula One cars can run at speeds of up to 360 km/h; 20 cars were taking part in the race on Sunday.
The organizers of the race deployed the so-called safety car – a special vehicle which limits the speed of the peloton. Most of the racers used this pause to make a pit stop.
The man apparently decided that this was the signal to leave and disappeared through a hole in the fence. The race soon resumed.
This is not the first time that people have walked around the track during a Formula One race. In 2000, one such daredevil crossed the track in front of rushing race cars during the Grand Prix in Germany.
The Singapore Grand Prix is an annual Formula One race which has been held since 2008. The feature of the race is that it is targeted at a European audience and is held at night. This year Sebastian Vettel from the Ferrari team won the cup.