Chukotka hunt to Agent Orange: Top 10 most horrific & emotional stories by RT Documentary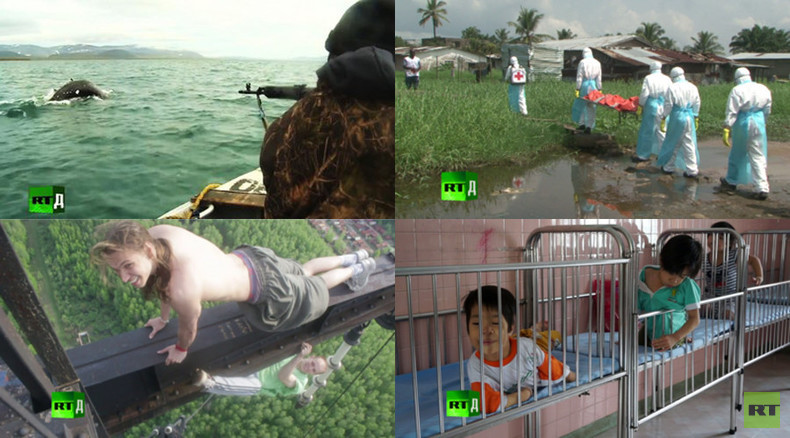 The RTD crew has crossed the globe searching out the most extraordinary stories in Moscow, Vietnam, Amsterdam, Liberia, and other places. People cried, laughed and grieved, recalling the most dramatic, scary and shocking moments of their lives.
10. I am Hunter
For the Chukotka people hunting is the only way to survive. Even though it runs in their blood, hunters' wives pray each time their loved ones leave for the hunt. Anything can go wrong when wounded prey seeks to protect itself. "Of course, it's a risk, it's dangerous, but we don't really think about that," Gennady says. Sometimes things go from bad to hilariously worse. The hunter recalled how once walruses surfaced near his boat and his dog jumped on one of them and caught it by the whiskers. "It [dog] finally let go, and survived," he said.
9. Lost: Russian Style
Ice fishing is supposed to be one of the most relaxing Russian winter pastimes - peace, quiet, solitude and a rare chance to commune with nature. But what if you had to get far closer to "mother nature" than you'd ever asked to? RT's James Brown spent a weekend he'll probably never forget, stranded in the forests of the frozen North without food, sense of direction and just a little light at the end of the tunnel.
8. Under Moscow
Their boots are stomping through mud, marching through tunnels at night... Moscow diggers descend into the urban underworld. "There's no signal in this black hell. The devil would lose himself in here..." Mysterious Moscow hides a dark subterranean world waiting to be explored, unknown to most surface dwellers. Volunteers navigate a labyrinth of underground rivers, tunnels and passages to discover hidden historic treasures and subways under construction. RDT followed them.
7. 119 Lives Unlived
During the renovation of an old house in Amsterdam, a shoebox was found, containing several dozen old postcards and letters written by a young man named Flip Slier. He had penned them during a harrowing year he spent in Nazi concentration camps. In 1943, Flip was gassed in the Sobibor death camp in Nazi-occupied Poland. Seventy years after the victory over Nazism, RT correspondent and Flip's first cousin once removed, Paula Slier, goes on a journey to learn more about his life and death. "If each of us was able to know our own family's story, there would never be the threat that our stories would be rewritten," she noted. Paula faced the horrific discovery that concentration camps took the lives of 119 members of her family. During the course of her investigation, she spent a night in the barracks of the Auschwitz concentration camp.
6. Ebola Warriors
The worst Ebola epidemic in history has killed over 11,200 people, mostly in Guinea, Liberia and Sierra Leone since the outbreak began in December 2013. RTD visited the epicenter of the Ebola crisis in West Africa in Liberia, where local Red Cross workers are risking their lives in an effort to save others from the deadly disease. The closure of health facilities and limited health services due to the Ebola outbreak has cut short the country's progress in registering births in recent years, UNICEF said. To prevent relatives and neighbors from being infected, specially trained burial teams are tasked with taking care of the dead.
5. On top of the world
RTD caught up with a bunch of young people who spend their free time climbing construction sites and towers without ropes – all in search of adrenaline. Their videos on YouTube get millions of views, horrifying parents and friends. They are called urban climbers, and they may be looking down on you right now. "I don't think there's anything a person cannot do," Oleg Aksenov told RTD. "We simply love it. We develop our abilities and I adjust myself to extreme situations so I can perform these acts. I always test myself in terms of what I'm capable of."
4. Red Waters
The RTD team visited the Faroe Islands, an autonomous region within the Danish kingdom some 320km northwest of Great Britain. The Faroese are often called the last barbarians of Europe. The archipelago is notorious for an annual event, known as the grindadráp, which sees locals luring whales to the shore before attacking them with lances and knives. Pictures of their bloody tradition, the slaughter of pilot whales, have gone went viral, shocking the global community. Animal activists have launched a campaign against the killing. But the Faroese are determined to continue their practice, insisting that it's no different to killing any other animal for food.
3. Atomic Message
Seventy years after the US dropped atomic bombs on the Japanese cities of Hiroshima and Nagasaki, historians still argue about the true reasons behind the fateful decision. The UN estimates that in total more than 200,000 people died from nuclear radiation, shock waves from the blasts and thermal radiation resulting from the bombing of Hiroshima and Nagasaki. Recently declassified documents suggest that the nuclear strikes may have been performed not out of military necessity, but to intimidate the USSR. RTD's Peter Scott visited victims' memorials in Hiroshima and Nagasaki and met nuclear blast survivors. He also interviewed President Truman's grandson, Clifton Truman Daniel, on the subject of his grandfather's controversial legacy.
2. Trauma
In the conflict-torn Donbass region, medical evacuation teams play a key role in saving the lives of those wounded by shelling. Responding to calls in the most dangerous areas 24/7, the doctors risk their own lives to save others regardless of what side of the conflict they are on. An RTD film crew joined one of the teams to witness the horrors they deal with on a daily basis and hear the heartbreaking stories of those they have rescued.
1. Vietnam: My orange pain
During the Vietnam War, the US Air Force used a defoliant known as "Agent Orange" to destroy forests where Vietcong guerrilla fighters were taking cover. Use of this toxic chemical severely harmed the health of those immediately exposed to it and caused birth defects in subsequent generations. An estimated 5 million people are suffering from the damaging effects of "orange pain" in Vietnam. An RTD team talked to people who are still struggling with the consequences of the Vietnam War, and an American veteran who has dedicated his life to clearing the country of mines and shells.