Pope Francis praises US-Cuba rapprochement as role model for entire world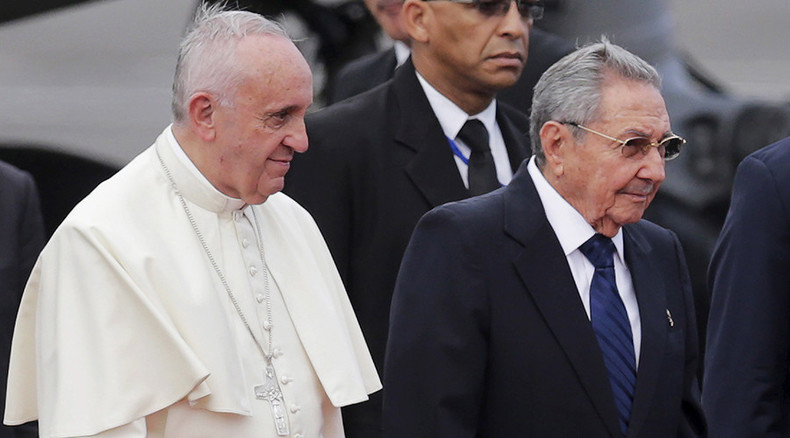 Despite promises to stay away from politics during his visit to Cuba, where atheism has prevailed for decades, Pope Francis could not resist praising the rapprochement in US-Cuban relations, promoting it as a model of reconciliation for the world.
Pope Francis, the third leader of the Catholic Church to visit communist Cuba, was met at Havana Airport by Raul Castro, who rolled out the red carpet for the pontiff. Taking to the stage first, Castro did not hesitate to criticize the decades of US economic blockade and human rights violations in Guantanamo.
"The blockade, which causes human damages and privation to the Cuban family, is cruel, immoral and illegal and it should cease," Castro said. "The territory usurped by the Guantanamo naval base should be returned to Cuba and other issues resolved too."
READ MORE: 'Not to share wealth with poor is to steal': Pope slams capitalism as 'new tyranny'
In a lengthy speech welcoming the Pope, Cuban President Raul Castro also praised Francis' critique of the capitalist system which has "turned money into its idol" – while Cuba's communist government "founded an equitable society with social justice."
Prior to the pope's arrival, the Vatican gave assurances that he would not explicitly address politics in Cuba, as the 78-year-old pontiff has been serving as a mediator between Washington and Havana and has been a guarantor of negotiations. Pope Francis, however, did say that the diplomatic breakthrough between US and Cuba should become an example to the whole world.
"It is a sign of victory of the culture of encounter and dialogue, 'the system of universal growth' over 'the forever dead system of groups and dynasties,'" he said.
READ MORE: Pope to conduct Cuba mass next to iconic Che Guevara portrait
The historic breakthrough between Obama and Castro was reached in December, and while an embargo remains in place, relations have dramatically improved. On Friday, using his executive authority to circumvent Congress, Obama issued new regulations weakening the embargo for a second time to allow for Americans to travel to Cuba. The new regulations also offer more freedom for telephone and internet investments and money transfers to Cuba.
"I urge political leaders to persevere on this path and to develop all its potentialities as a proof of the high service which they are called to carry out on behalf of the peace and well-being of their peoples, of all America, and as an example of reconciliation for the entire world," Francis added.
Extending his blessings to Fidel Castro, who was unable to greet the Pope at the airport, Francis noted that relations between the Cuban government and the Church have greatly improved.
"Today we renew those bonds of cooperation and friendship, so that the Church can continue to support and encourage the Cuban people in its hopes and concerns, with the freedom, the means and the space needed to bring the proclamation of the kingdom to the existential peripheries of society," the pope said in a speech at the airport upon arriving in Havana.
Last week, prior to Pope Francis' arrival as a gesture of goodwill, authorities announced that they would release 3,552 prisoners, including minors, people over the age of 60, prisoners in poor health and foreigners.
I ask you to join me in praying for my trip to Cuba and the United States. I need your prayers.

— Pope Francis (@Pontifex) September 18, 2015
Francis is due to rest after his long flight before administering mass on Sunday, followed by an official meeting with the Cuban president. Francis will arrive in Washington on Tuesday for the US leg of his 10-day North American trip, during which he is scheduled to speak at the UN General Assembly.