Pope to conduct Cuba mass next to iconic Che Guevara portrait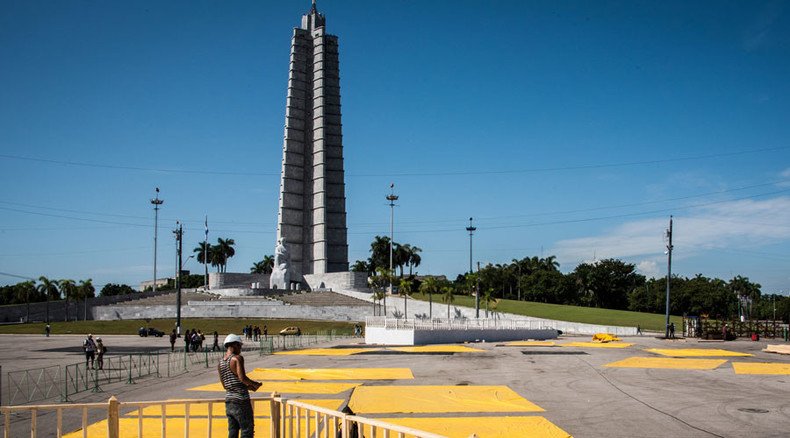 Workers in Cuba are building an altar for Pope Francis' landmark visit next month, during which he will deliver a mass in Havana. The structure will be located to the left of a giant image of Marxist revolutionary Che Guevara.
The pontiff's visit, scheduled for September 19-22, will include a mass in Havana's Plaza de la Revolucion, AFP reported. The square is bordered on one side by the Interior Ministry, which showcases a 36-meter (118 foot) sculpted outline of Guevara's face.
The image is based on the famous 1960 photograph of Guevara, captured by Alberto Korda. The picture has been reproduced worldwide on posters and T-shirts.
Guevara, a symbol of Marxist revolution, fought alongside Fidel Castro to overthrow dictator Fulgencio Batista in the 1959 Cuban Revolution. He was captured and executed in Bolivia in 1967, at the age of 39.
Pope Francis will not be the first pontiff to conduct a mass near the image, however. John Paul II and Benedict XVI also gave masses near the Guevara portrait during trips to Cuba in 1998 and 2012, respectively. Francis' mass will take place on September 20.
The visit will take place just two months after Pope Francis was praised by Cuba and the US for his role in the restoration of diplomatic relations between the two countries.
However, Francis has downplayed his role in the historic thaw, saying last month that "we did hardly anything, only small things...there was a desire that had arrived – on the other side also a desire," AP reported.
"It was the goodwill of the two countries, and the merit is theirs. The merit is theirs for doing this," the pontiff added.
Francis' visit to Cuba will be followed by a US visit to Washington, New York, and Philadelphia. One of his most anticipated events will take place on September 24, when he will become the first pontiff in history to make an address before US Congress.
You can share this story on social media: