Russia constructs first foreign camp in Syria for internal refugees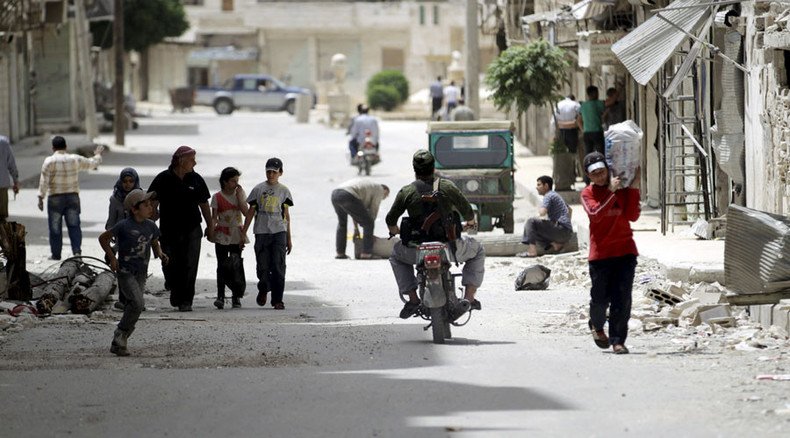 The first tent camp for internal refugees, constructed by Russian engineers, has been opened in western Syria, in a location safe from the raging civil war. Over the last four years more than 50 percent of the Syrian population has been displaced.
The camp site is situated on a racetrack, practically in the downtown of the city of Hama (Hamah), some 40km from the nearest warzone. This site is considered to be relatively safe in a country suffering from active military operations since February 2011.
The camp for 500 refugees consists of 25 army tents fully equipped for living, a field kitchen, a canteen, showers, two mobile power generators and a water-storage facility. The dwelling tents are equipped with beds and heating furnaces for cold weather.
In case the number of refugees increases sharply, the camp is ready to accommodate up to 1,000 people.
Everything needed to set up a camp was delivered to Latakia Airport on September 12 by an Antonov An-124 Ruslan jet. The flight also brought 50,000 sets of disposable tableware and 15 tons of provisions enough to feed 50 people for 30 days.
Hama province's Governor Ghassan Khalaf and religious clerics have come to open the camp.
"We appreciate Russia's help in delivering all the necessary equipment and setting up a camp. With the given situation, Syria is in great need for camps like this to accommodate displaced citizens leaving provinces with active warfare ongoing," Khalaf told RIA Novosti.
READ MORE: Western double standards hit Russia's Syrian efforts
Syrian volunteers are already assisting the refugees at the new camp.
"I learnt how to operate a Russian field kitchen really quickly and have already cooked some Russian cereal. The camp's kitchen is capable of cooking food for 200 people at a time.
"When we run out of food stock, our organization will continue supplying provision s and assist the refugees," Red Crescent Society volunteer Anan Musri told Vesti.
Some 30 flights from Russia have landed at Latakia Airport over the course of the last two years. The last two aircrafts that arrived on September 12 brought to Syria about 80 tons of humanitarian help.
Active fighting is ongoing in neighboring Idlib and Aleppo provinces, and people escaping from the militants into the area controlled by the Syrian government are being accommodated in Hama's schools. As the academic year is set to begin soon, people must be relocated to enable pupils to attend lessons.
According to Amnesty International, four years of warfare in Syria have displaced half of the Syrian population. About 4 million Syrians have escaped abroad, to neighboring Turkey (1.9 million), Lebanon (1.2 million), Jordan (650,000), Iraq (250,000) and Egypt (more than 130,000).
The United Nations High Commissioner for Refugees (UNHCR) claims there are 6.5 million people internally displaced within Syria.
READ MORE: Syrian refugees in Lebanon fear fleeing unrest again, may head to Europe
Yet a large number of them have opted to move further, to Europe, and are now causing chaos in the EU, which has found itself unprepared to deal the huge flow of asylum seekers.
LISTEN MORE:
You can share this story on social media: