'Kiev persecuting media reporting truth' – blacklisted Spanish journo to RT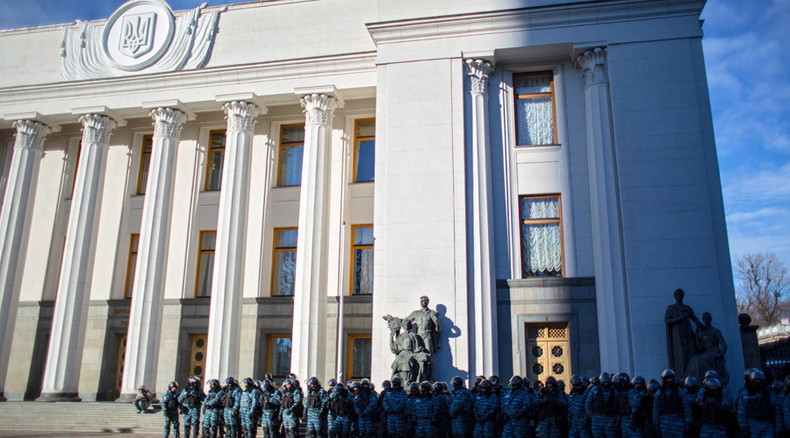 The Ukrainian government is "persecuting people who are telling the truth," Cesar Vidal, Spanish historian and journalist, who has been blacklisted by Kiev along with other European journalists, told RT.
Ukrainian President Petro Poroshenko on Wednesday introduced sanctions against hundreds of individuals and legal entities, including dozens of journalists. Among them were employees of the BBC, El Pais, Die Zeit and RT's Ruptly. On Thursday, apparently caving to pressure from European organizations and the media, he shortened the list striking off the names of journalists for British, German and Spanish media outlets.
READ MORE: Kiev revokes sanctions on British, German & Spanish journalists after western outcry
Cesar Vidal, historian, writer and contributor for Spain's de La Razon, told RT that he was not surprised that Kiev did not remove him from the blacklist on Thursday.
He believes that he was included in the sanctions list in the first place because he wrote "about the falsehood of the thesis of Ukrainian nationalism" and about some media coverage of "the reality in Ukraine."
"Ukrainian nationalism is a real enemy of freedom," he said. The Ukrainian government is "persecuting people who are telling the truth. They are denying terrible tragedies like the 2 million Ukrainians who have fled to Russia, fleeing from Poroshenko and his government. This is the real reason."
"Nobody can believe that there is total freedom in Ukraine now in many aspects," he believes.
Meanwhile on Thursday, the US State Department encouraged Kiev to keep in mind the importance of freedom of press.
"As [the] Ukrainian government continues to review the list we encourage it to keep in mind the importance of unfettered and factual journalism in a democratic society," Spokesperson John Kirby said in a daily briefing.
Giampaolo Pioli, President of the UN Correspondents Association told RT that a "journalist doesn't pose any threat to anything" describing Kiev's decision to blacklist media representatives as "poor."
"A journalist is there to observe and to report in the most honest way he can and I think this is a value for the country he is operating and from the country he is reporting. So he cannot be a threat to anybody," he said.
"I hope when President Poroshenko ... [comes] to the UN in a few days, all journalists from that blacklist will be out and we will gain access again to cover Ukraine," he added.
He said that when a government blocks journalists from reporting it "prevents a huge chunk of democracy" from being observed.
"Preventing journalists to do their job is preventing the truth to come out – nationally or internationally," he said.
Other European politicians have also expressed discontent with Poroshenko's move. Johannes Hahn, European Neighbourhood Policy and Enlargement Negotiation Commissioner said that he will "certainly discuss it with the colleagues in Ukraine because it is not European in spirit."
Following his order to remove only some journalists from the blacklist on Thursday, Poroshenko said that "freedom of the press is of absolute value to me."
Meanwhile, the OSCE Representative on Freedom of the Media Dunja Mijatovic said on Thursday that sanctions introduced by Kiev are a severe threat to the rights of journalists and freedom to collect information.