Kiev revokes sanctions on British, German & Spanish journalists after western outcry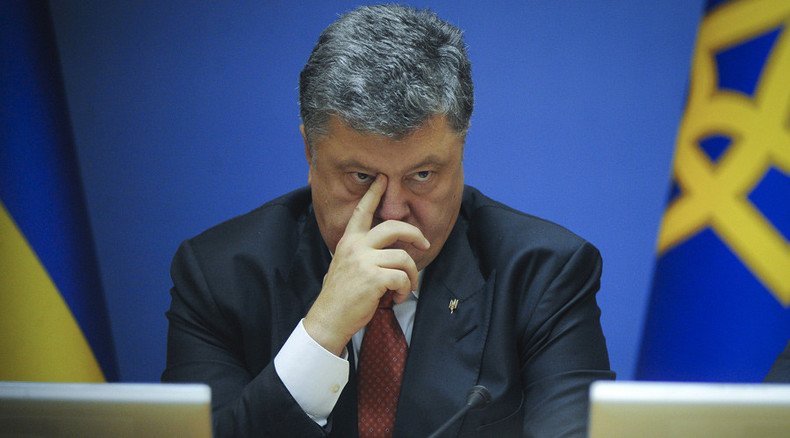 Ukraine's sanction list has become much shorter since President Petro Poroshenko has ordered to strike off the names of journalists for British, German and Spanish media outlets, apparently giving in to the pressure from European organizations and media.
The National Security and Defense Council of Ukraine has scratched off the list the names of British, German and Spanish journalists, reported Poroshenko's press secretary Svyatoslav Tsegolko on his Twitter account.
That means that journalists from UK's BBC, Spain's El Pais and Germany's Die Zeit now have the right to work in Ukraine.
Initially, Tsegolko reported that only British journalists from BBC were excluded from the list.
US Ambassador to Ukraine Geoffrey Pyatt has welcomed the decision, writing "Glad to see Minister Stets (Ukraine's Information Policy Minister Yury Stets) agrees on press freedom and need to correct sanctions list."
On Wednesday, President Poroshenko signed a decree introducing sanctions against nearly 400 individuals and 90 legal entities from France, Germany, Greece, Israel, Italy, Poland, Russia, Spain, Switzerland, the UK, USA, and some other countries for posing "threat to national interests" and promoting "terrorist activities."
The list includes civil servants, company heads, politicians and journalists, who Kiev believes to have connections with self-proclaimed Donetsk and Lugansk People's Republics, as well as with Crimea peninsula which chose to rejoin Russia in 2014 after a referendum.
People and organizations under Ukrainian sanctions became subject of travel and financial restrictions on Ukrainian territory with immediate effect for the period of one year.
The decision of the Ukrainian authorities has sparked condemnation from European media and international organizations.
LISTEN MORE:
READ MORE: Ukrainian president bans dozens of journalists, incl from BBC, El Pais, RT's Ruptly
The OSCE Representative on Freedom of the Media Dunja Mijatović said on Thursday that sanctions introduced by Kiev are a severe threat to the rights of journalists and freedom to collect information.
She said that she fully respects governments' legitimate right to fight terrorism and to protect their national security and their citizens, but introducing over-broad restrictions that curb free movement of journalists is not the way to ensure security. She called on President Poroshenko to amend his decree.
Meanwhile BBC's foreign editor Andrew Roy said that Kiev's move "is a shameful attack on media freedom."
"These sanctions are completely inappropriate and inexplicable measures to take against BBC journalists who are reporting the situation in Ukraine impartially and objectively and we call on the Ukrainian government to remove their names from this list immediately," Roy said.
You can share this story on social media: