'Saddest man in Brazil' dead: World Cup superfan passes away at 60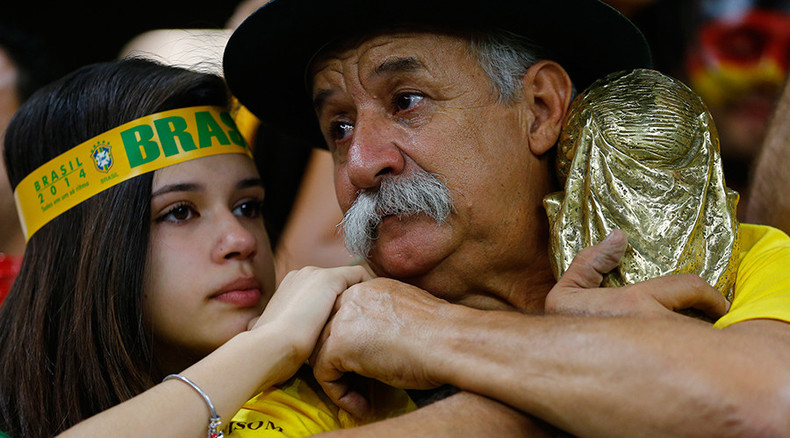 Clovis Acosta Fernandes, a legendary Brazil fan whose tears inspired an iconic image after the Selecao lost 7-1 to Germany in the World Cup last year, has died in Porto Alegre, following a nine-year battle with kidney cancer.
Fernandes sold his pizzeria business prior to the Italy World Cup in 1990 to fund his travels round the world, which took him to over 150 matches in more than 60 countries.
"I remember watching Brazil win the World Cup in 1970 as a boy, and how much I wanted to be a part of this, but it was not until twenty years later that I got to experience it firsthand. All this passion I had been bottling up was released at once, and the feeling has not stopped since," he told a FIFA documentary crew last year.
Fernandes' amiable demeanor and luxuriant moustache made him a national media phenomenon, as cameramen homed in on him during matches, and travel agencies and local governments paid to take him around the world, while he personally witnessed the team lift the greatest prize in international football in 1994 and 2002.
But Fernandes international fame arrived when he was filmed sobbing while clutching a replica World Cup Trophy, as Brazil slumped to a humiliating home defeat in Belo Horizonte on July 8 last year, against eventual winners Germany. After the match, Fernandes was pictured handing the replica trophy to a young German fan, earning him extra sympathy online.
What hadn't been widely revealed at the time, is that he had been battling cancer on and off for nearly a decade. In recent years, Fernandes was forced to stop drinking alcohol and relocated to an organic farm in a bid to prolong his life.
Fernandes' last tournament had been the Copa America this summer, where his beloved team once again exited early, losing to underdogs Paraguay in the quarter-finals. Brazilian media reported that he recently abandoned his final course of chemotherapy, and requested to go home, where he died surrounded by his children and grandchildren.
You can share this story on social media: