Capsized boat survivors claim Aylan Kurdi's father is people smuggler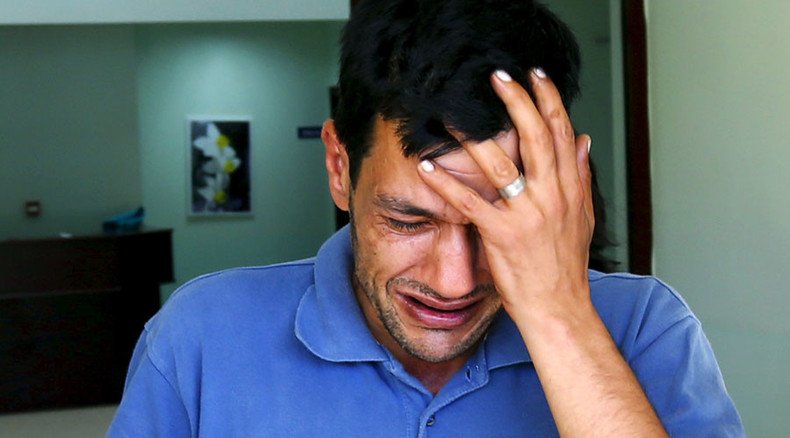 Passengers of the boat that capsized in the Aegean Sea, taking lives of at least 12 people, including a Syrian toddler, whose tragic image has become iconic for the current refugee crisis, have accused his father of being a "people smuggler."
Several Iraqis, who survived the notorious sea accident last week, told Reuters and Australian media on Friday that Abdullah Kurdi, whose story of losing his family became known worldwide, was responsible for the illegal voyage and later begged them to hush-up his role in the incident. In return, Kurdi dismissed the claims as "lie."
"The story that [Aylan's father] told is untrue. I don't know what made him lie, maybe fear," Ahmed Hadi Jawwad, who lost his 11-year-old daughter and 9-year-old son, told Reuters. "He was the driver from the very beginning until the boat sank."
He added that Kurdi "organized this trip," and his wife confirmed the details.
After a shocking image of his three-year-old son being washed ashore went viral, Kurdi grievingly told the story of his family to the media, saying that he returned to the Syrian town of Kobani from Istanbul to take his wife and two kids to Europe, fleeing Islamic State (formerly known as ISIS\ISIL). When the captain escaped the capsizing ship in panic, he said he had to hold the rudder to continue their route to the Greek island of Kos.
"We tried to hold on to the boat, but it deflated rapidly. Everyone was screaming. I could not hear the voices of my children and my wife," Kurdi told Dogan news agency, adding that he swam to the beach, failing to find his wife and sons, who "slipped" from his hands.
READ MORE: 'I blame myself': Father of drowned kids lays family to rest at home in Kobani (VIDEO)
The first woman to accuse Abdullah Kurdi of being a "people smuggler" was Zainab Abbas, an Iraqi refugee and a mother of a 12-year-old girl and an eight-year-old boy, who died in the sea accident off the Turkish coast. In an interview with Australia's Channel Ten, she said he had asked her "not to dob him in."
"Yes, it was Abdullah Kurdi driving the boat," Abbas told Ten on Friday, as interpreted by her cousin Lara Tahseen. "'When I lost my kids, I lost my life, how can he [Kurdi] lie to the media?"
"He said 'Please don't dob me in.' That was in the water," Abbas said, adding that she had to sell all the family's belongings to get $10,000 she paid Kurdi for the journey. She added that the overcrowded boat didn't have enough life jackets.
Abbas revealed that her husband asked the man to slow down, as he was speeding, but he wouldn't listen.
READ MORE: Dead toddler Alyan Kurdi's image used in ISIS propaganda magazine
Another Iraqi, 22-year-old Amir Haider also confirmed this version of the story, telling Reuters in a telephone conversation that he first thought that Kurdi was Turkish.
However, Kurdi denied the accusations, telling MailOnline that "If I was a people smuggler, why would I put my family in the same boat as the other people? I paid the same amount to the people smugglers."
While Kurdi came back to Kobani for his family's funeral, Abbas with her husband and their third child returned to Iraq, where they asked the federal government to put them on a list of the 12,000 refugees Australia had promised to take in, after burying their children, Australian Associated Press reported.
You can share this story on social media: