Dead toddler Alyan Kurdi's image used in ISIS propaganda magazine
Published time: 10 Sep, 2015 11:52
Edited time: 13 Mar, 2016 10:41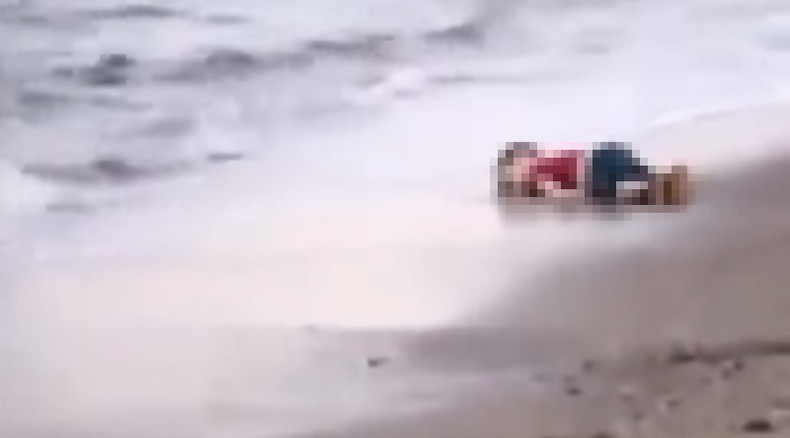 The notorious image of Syrian boy Aylan Kurdi, who drowned trying to get to Europe with his family, is being used by the Islamic State magazine for PR purposes, claiming Syrian refugees are losing their Muslim identity and the lives of their children.
When seeking shelter in Europe, Syrian refugees commit "a major dangerous sin" and put their children at risk of "abandoning Islam for Christianity, atheism or liberalism," the Guardian cites Islamic State's (IS, former ISIS/ISIL) propaganda magazine, which illustrated the wrongdoing with the shocking image of the drowned toddler, who washed ashore on a Turkish beach a week ago.
READ MORE: Gruesome photo of drowned toddler's body on Turkey beach fuels refugee debate (GRAPHIC)
The article in the newest (published on Wednesday), eleventh edition of IS's English-language Dabiq magazine is titled 'The Danger of Abandoning Darul-Islam'. Under the name of Darul-Islam (Islamic Lands), the article means the territory of the so-called Caliphate proclaimed by IS on the territory of Syria and Iraq.

"Sadly, some Syrians and Libyans are willing to risk the lives and souls of those whom they are responsible to raise upon the Sharī'ah – their children – sacrificing many of them during the dangerous trip to the lands of the war-waging crusaders ruled by laws of atheism and indecency," the article states, adding that "constant threat of fornication, sodomy, drugs and alcohol" await them at the end of the trip.
"If they don't fall into sin, they will forget the language of the Koran – Arabic – which they were surrounded by in Sham [Syria], Iraq, Libya and elsewhere, making the return to the religion and its teachings more difficult," the article goes on.
When it comes to using the image of dead three-year old Aylan Kurdi, whose family was caught by war in the Syrian town of Kobani on the border with Turkey, inhabited primarily by Kurds, the devilish irony of the story is that Kurdi family had to flee Kobani because of IS besieging and assaulting it for months, until Kurdish Peshmerga militia knocked them out of the region. Allegedly, 11 of Aylan's relatives died during the Kobani battle.
The latest issue of Dabiq also contains a picture of the former Iranian President Mahmoud Ahmadinejad greeting an Orthodox Jew and a picture of the destruction of the World Trade Center in New York, with a caption asserting that "the Crusaders were cooperating with Iran prior to September 11 and following the blessed attacks their cooperation grew."
Al-Qaeda, as well as Al-Nusra Front, ISIS' main Islamist political rivals in the region, are portrayed as NATO tools. The main religious enemy of Sunni IS, the 'hidden imam' of the Shiite Muslims is portrayed as 'crypto-Jew'. Palestinian Hamas is dubbed an inauthentic Islamic nationalist entity "actively adopting democracy."
LISTEN MORE: