Hell of a hail! 9 injured as storm ravages Kazan, Russia, damaging cars & buildings (PHOTOS, VIDEOS)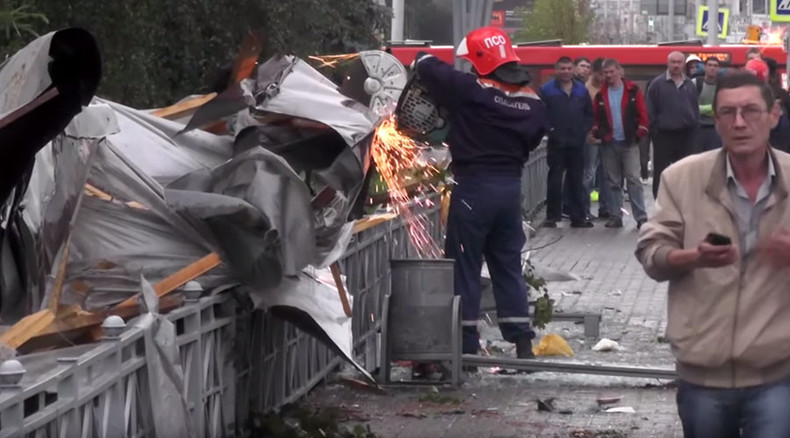 A heavy hail storm hit the city of Kazan on Monday, causing considerable damage to the city's infrastructure. At least nine people were injured when a roof was torn off and landed on a bus stop, RIA Novosti reported citing local emergency services.
A number of other buildings have been damaged, with roofs said to have been carried away by strong winds and large trees torn from the ground. According to local officials, roofs on some 30 buildings have been destroyed.
People were mostly impressed with the large ice balls that fell from the skies in the capital of Russia's Republic of Tatarstan. Kazan is among Russia's most-populous cities, home to over a million people.
READ MORE: Oz-some! Ukrainians shocked by huge twister in their region (PHOTOS, VIDEOS)


Although the temperature was said to be around 30 degrees Celsius (86 Fahrenheit), the ground in some parts of the city was quickly covered with ice.
The storm hit Kazan in the second half of the day, with a warning having been released by authorities ahead of the drenching.
READ MORE: Apocalyptic rainstorm floods Moscow streets, lightning blasts gas station (PHOTOS, VIDEOS)


Bad weather has been quite a source for inspiration for Russian social media users this past summer. While Muscovites were mostly thrilled by lightning that took all shapes and forms above the Russian capital, locals in the Far Eastern city of Vladivostok recently decided not to stay at home glued to their smartphones after a storm, but took to the streets for some adrenaline-fueled activities. They wakeboarded behind cars, riding the waves on Vladivostok highways after Super-typhoon Goni ripped through the region.

READ MORE: Road-surfing Russians ride typhoon waves with wakeboards tied to cars (VIDEOS)