Oz-some! Ukrainians shocked by huge twister in their region (PHOTOS, VIDEOS)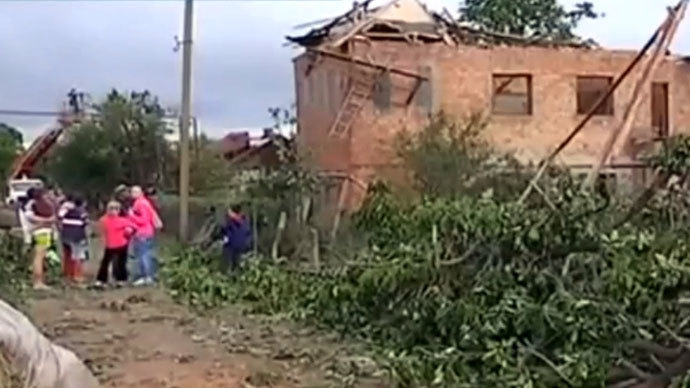 A tornado hit several villages in the Dnepropetrovsk region in Ukraine's south this week. Locals reported that roofs were blown off, trees torn from the ground, and fish from the river covered the roads, adding they had never seen anything like it before.
The village of Volosskoe near Dnepropetrovsk suffered the worst, Rossiya 24 channel reported. The funnel cloud grew to 100 meters in diameter.
when Ukraine turn to Kansas.... #ukraine #tornado #twister #rain #dnepr #торнадо #смерч #днепр #украина
The tornado was gone in some 15 minutes, leaving people in its wake in shock. Locals said they had only seen such a weather phenomenon "on television, in programs about America," Kharkov news agency reported.

Час назад вот это неслось в сторону города с. Волосское, Днепропетровская область #dnepr_town #днепрнеспит #днепр #днепропетровск #dnepr #торнадо #смерчь
Some 30 houses were badly damaged, and a roof was later found six kilometers away from its building. One elderly woman was injured by shattered glass, the agency said.


No, it's not America, it's Kharkiv. #Харьков#Украина#погода#торнадо#weather#summer#лето
Not only stones, but torn out gas pipes and trees were swirling in midair, as the tornado lifted fish out of the Dnepr river and onto the roads where they were later gathered by the locals, Rossiya 24 reported.
READ MORE: Swim to your car, it's 'normal'! Downpour turns roads to rivers in Russian cities (PHOTOS)
"The fish were thrown [by the storm] right on the road, after [the tornado] was gone people started gathering the fish. Some have got two sacksful," a local woman told the channel.
READ MORE: Ex-Olympic city flooded: Sochi F1 track, airport, cars under water (VIDEO, PHOTOS)
The area was hit by the same cyclone that had already brought heavy storms to several regions in southern Russia this week, including the ex-Olympic city of Sochi. The host of last year's Winter Olympic Games was badly hit by flash flooding after days of torrential rain.