Road-surfing Russians ride typhoon waves with wakeboards tied to cars (VIDEOS)
Goni, a super-typhoon that killed dozens in the Philippines, has ripped through Russia's Far East. But flooding didn't stop residents of the Pacific city of Vladivostok from having fun. Some tied wakeboards to their cars, breaking the waves on highways.
Vladivostok adrenaline lovers have been garnering thousands of likes on YouTube with videos of their extreme post-typhoon wakeboard rides along the city's flooded streets.
"I don't want to sit at home, one must have a rest after work, and what can be better than a healthy break. That's why we are looking for adventures," one of the post-typhoon riders told Vladivostok news website VL.ru. "I took three rides today."
The deadly typhoon was downgraded Thursday to a cyclone and despite gloomy forecasts caused no major damage in the Russian Far East. Roaring winds and lashing rain proved to be a challenge, however.
"I don't know how I'm going to get home after work, I may have to stay here. It's scary," local resident Oksana told RT.
Goni hit the Far East Russian city of Nakhodka hard, bringing 58 millimeters of rain on Wednesday. As it approached Vladivostok, lashing rain began to develop into a storm. Police warned holidaymakers on Pacific beaches of the coming danger.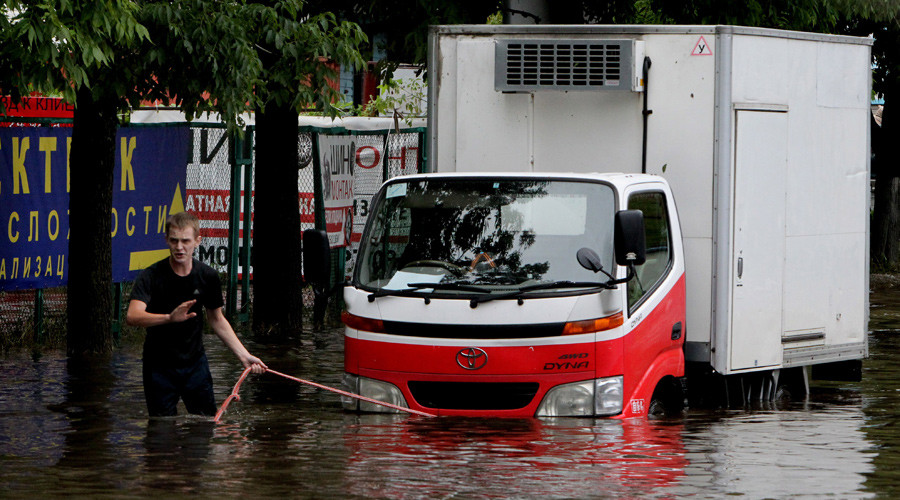 Alternative sources of energy have been installed in cities and towns, as well as tent camps for provisional accommodation of people, TASS news agency reported.
RT correspondent Daniel Bushell saw the weather in Vladivostok at its worst. "Officials are still predicting winds of 35 meters per second," he reported from the city. "Authorities have unleashed a huge operation to cope with the effects, involving 22,000 people. Residents have been advised to cover their windows."
Meteorologists said Wednesday that the typhoon's epicenter will be between Vladivostok and Nakhodka, with a storm in the Sea of Japan likely to be accompanied by 4.5-meter-tall waves. Goni is then expected to turn toward Heilongjiang in northeast China.
In 1990, Typhoon Robin brought as much as 244 millimeters of rain to Vladivostok in a single day – an all-time record for the city. Another mighty typhoon was Typhoon Judy.