Hanging cows & flying eggs: How EU farmers protest lowering milk, meat prices in Brussels (VIDEO)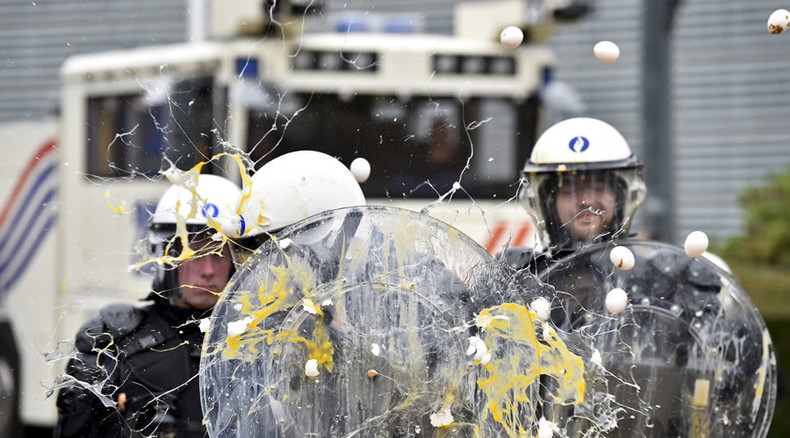 Eggs and firecrackers have been thrown at police officers during farmers' rally outside the European Commission headquarters in the center of Brussels, a Ruptly video shows. The demonstrators are also seen hanging life-sized fake cows from tractors.
Hundreds of farmers scattered hay, threw dozens of eggs and - according to some news agencies - shot milk at the officers. Some of the hay was also set ablaze in front of the police.
Police used water cannon against the demonstrators as two tractors were used in an attempt to break a cordon which was guarding the entrance to EU buildings. At least one officer has been injured in the clashes with protesters, Ruptly video agency reported from the scene.
READ MORE: Water cannon in Brussels as protesting farmers use tractors to break police cordon (VIDEO)
Around 6,000 farmers who arrived at the EU hub in the Belgian capital on 2,000 tractors were protesting against falling milk and meat prices, in the organizers' estimates.
In the meantime, the European Union has released about €500 million in emergency aid for farmers, an official told AFP.
LISTEN MORE: