Hostage crisis ends in bloodshed on steps of Sao Paulo cathedral (VIDEO)
Published time: 5 Sep, 2015 15:27
Edited time: 6 Sep, 2015 07:47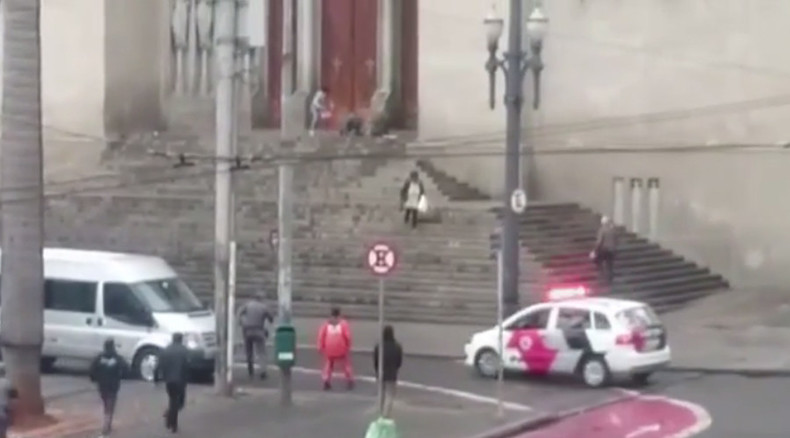 A hostage situation ended in a deadly shootout on the steps of Sao Paulo's landmark cathedral on Friday. A gunman killed a homeless man who tried to rescue a female hostage and was later shot dead by police.
Luiz Antonio da Silva, 49, reportedly took a woman hostage in the Sao Paulo cathedral earlier in the day.
"They [man and hostage] entered and spent some time [in the church]. They seemed to be arguing… She wanted to leave. He grabbed her arm. They then left the church and he assaulted her," cathedral security guard Joao Nascimento told Folha de S. Paulo newspaper.
Erasmo Francisco Rodrigues de Lima, 61, tried to intervene in the incident, which led to a scuffle between the two. Silva then pulled out a gun and shot Lima dead in front of crowd of onlookers.
"An armed criminal targeted a victim and announced a hold-up. A passer-by saw what was happening and on intervening, was injured by shots fired by the criminal.
The passer-by died at the scene," the official police report said, as quoted by Metro UK.
The hostage, who was injured, received medical attention at the scene.
Authorities say Silva had spent 22 years behind bars for theft, damage of property, and causing bodily harm.