Catalan president vows new independence push after projected parliamentary majority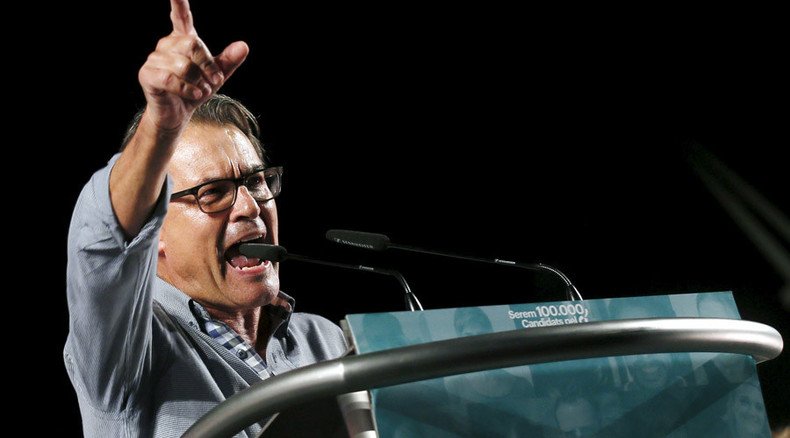 Catalan President Arthur Mas plans to secure popular mandate during the snap regional elections this month, vowing that if the united front of pro-independence parties running on one ballot takes the majority of seats – he will push for Barcelona's succession from Madrid.
"If the all the options which are in favor of the yes have an absolute majority of lawmakers we will move forward," Catalan President Artur Mas said during an interview with Onda Cero radio.
The "Together for the Yes" coalition stands a strong chance to win a majority of at least 68 seats in the 135-seat regional assembly in Catalonia's regional election on September 27.
According to a recent poll, commissioned by the newspaper Publico, pro-independence parties are projected to gain 49 percent of votes and get 73 seats in the 135-seat regional assembly under Catalonia's proportional representation system.
READ MORE: Catalan nationalists sign 'road map' to secede from Spain in 2017

Mas's goal is to secure 18-month roadmap for secession from Spain after gaining popular support from the pro-independence coalition, comprising of the Republican Left of Catalonia and the Democratic Convergence of Catalonia.
READ MORE: Catalonia calls early elections in new independence push
During the symbolic referendum in 2014, results of which Madrid disputed in court, around 80 percent voted for independence during a vote-like poll with some 40 percent turnout. Latest polls suggest, however, that up to a half of Catalonian population might be against the secession.
Spanish Prime Minister Mariano Rajoy has repeatedly denied Catalonia right for a referendum and this week defended the controversial constitutional judicial reform. The proposed measure would allow Constitutional Court to suspend public servants who disobey its rulings, as Mas did last year by holding the symbolic vote.
Meeting his British colleague David Cameron this week, the Spanish prime minister once again rejected any possibility of a succession vote as unconstitutional. Cameron, who himself barely survived the Scottish independence vote last year, supported Madrid in its effort to preserve unity.
"We are better off together, stronger together, more prosperous together. We should stay together, whatever situation we're faced with," said Cameron.
The British PM also warned that if Catalonia does eventually secede, the new state will lose the privilege of being a member of the European Union that many countries desperately wish to join.
"It has to take its place at the back of the queue, behind those other countries applying to become members of the European Union," Cameron stated.
Historically Catalonia, which already enjoys significant autonomy from Madrid, has been one of Spain's better-off regions and the local population has resented having to send their taxes to the capital to help support poorer areas of the country, as Catalonia accounts for one-fifth of Spain's economic output.
You can share this story on social media: