China V-Day parade in amazing 360° panorama videos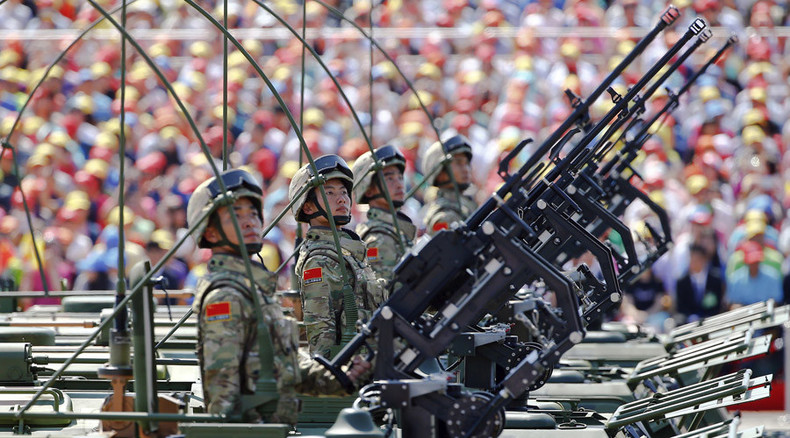 China's large-scale military parade commemorating the 70th anniversary of the end of WWII was filmed in a breath-taking way - 360° panorama videos that put viewers firmly in the front-row and give them a new and immersive experience.
One of the videos opens with helicopters, forming the number 70 in the skies. They are followed by planes passing by with colorful trails. Over 200 aircraft of more than 20 types including fighter jets and bombers were displayed during the parade.

Another nearly 5-minute video affords viewers a glance of blue khaki military vehicles carrying shore-to-ship missiles past the iconic Tiananmen Gate. They soon give way to green khaki vehicles carrying DF-31A long-range missiles labeled as "aircraft carrier-killers" by state media sources. This is the newest modification with a range of 8,000 kilometers.
The Chinese parade on Thursday showed off over 500 units of military equipment with most of them being displayed for the first time, such as the Type 99A battle tanks, which rumbled down the square with Chinese soldiers standing on them.
Yet another clip takes viewers to the observation platform over Tiananmen Square and shows spectacular footage of military planes flying in V-formation.
READ MORE: China marks 70th V-Day anniversary with spectacular parade (PHOTOS, VIDEO)
China rolled out an impressive array of high-tech military machinery in front of some 30 world leaders to mark victory over Japan in World War II. The parade itself wasn't directed at any particular country, Chinese officials noted. However, some experts believe the event is "muscle-flexing" at some of China's geopolitical opponents.