UK announces £500mn injection into costly, controversial Trident base in Scotland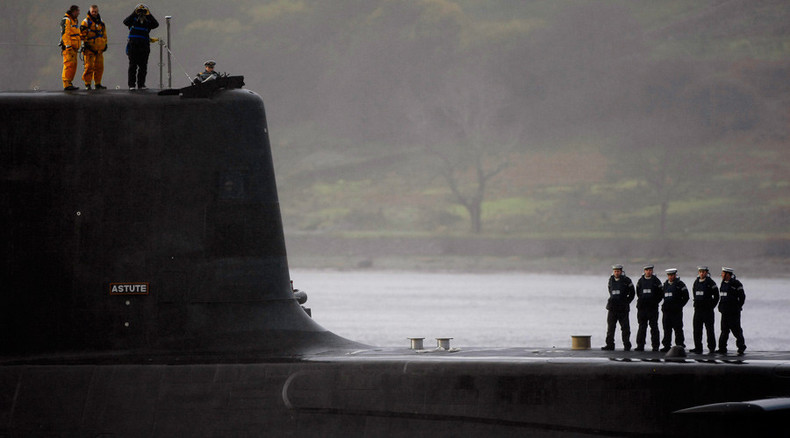 Britain has announced an investment of £500 million into Scotland's Faslane naval base – the site of the controversial Trident nuclear submarine deterrent. The move has aroused much criticism in an already-divided United Kingdom.
In a statement ahead of his Scotland visit, British Chancellor of the Exchequer George Osborne pledged £500 million ($770million) to the project, containing "ship lifts, sea walls, jetties and other major projects," to take place over the next 10 years.
Work is to begin in 2017 and about 8,200 would be on the project by 2022, up from 6,700 already booked, according to the statement.
The announcement "demonstrates the UK government's commitment to investing in the infrastructure and capability to ensure that Faslane remains the center of UK submarine operations for the next generation," Osborne said.
However not everyone is happy with Trident, which is often viewed as luxurious and unnecessary. Many in Britain wish to scrap it, especially in the difficult times of austerity cuts. Among those are Scottish nationalists, the SNP, who are currently the ruling party in Scotland.
"It seems the Treasury apparently has a limitless pot to keep an unwanted and obscene arsenal of nuclear weapons afloat," Brendan O'Hara, the SNP's Westminster defense spokesman said, according to British media. O'Hara argued that a "conventional base" would do just fine.
Britain's 'Trident' nuclear deterrent consists of the fleet of four Vanguard-class submarines, one of which is on patrol at all times that are based on the River Clyde, east of Glasgow. Moreover, PM Cameron's government earlier said it backs Trident's multi-billion pound renewal. A decision on that is expected to be taken next year.
The military is a shared British institution, and Osborne's announcement came just as former Prime Minister Gordon Brown talked of risks to the British union, owing to Scotland's and England's differing political views. On his visit to Edinburgh, the former PM said the Conservative government was playing "the English nationalism card" at the general elections. "They are pushing Scotland and England further apart."
While the Conservatives with David Cameron have been making gains in the May election in England, earning the current prime minister the majority, the Scottish nationalists managed to take nearly every seat over in Scotland.
The two countries are at odds over the current Trident program. There is an ongoing debate with the SNP about its renewal for next year.
READ MORE: Discharged Trident whistleblower rebukes Royal Navy 'spin'
Meanwhile, protests back home in London are ongoing over the government's attitude to spending. The health, infrastructure and environment sectors are a few among those that suffer, so that the military budget could be ramped up. In late June, around 250,000 people attended one gathering, some of them slamming the government's increased military spending, others lambasting Britain's housing crisis, poverty-level wages, and slashed social safety nets.
In early August, the NHS was told to slash spending and only fill emergency vacancies, as austerity measures continued their hold. Financial justice activists are calling upon the British government to address Britain's Private Finance Investment (PFI) debt crisis and acknowledge that excessive debts generated through these schemes impact on ordinary taxpayers while wealthy investors profit.
READ MORE: NHS trusts ordered to make emergency cuts amid £2bn spending black hole

Part of a worldwide program of privatization and financialization, PFI schemes use private capital to fund public infrastructure development. British taxpayers are estimated to owe roughly £222 billion ($337 billion) to banks and private firms under 720 PFI contracts.
To many who do not wish to see British hospitals crumble, Trident is a perfectly replaceable program.