Sentenced to rape?! 1,000s call for action as Indian community council 'orders' abuse of 2 sisters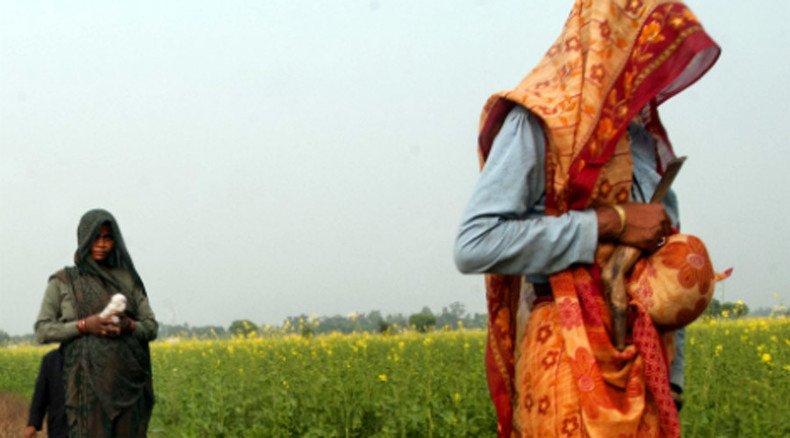 Over 60,000 people signed an Amnesty International UK's petition demanding the government intervene in the case of two Indian sisters sentenced to rape and humiliation for their brother's deed by a local council dominated by a higher caste.
An unelected all-male council from a village in India's Baghpat district handed down the ruling on July 30, ordering Meenakshi Kumari, 23, and her sister, 15, to be raped as well as paraded naked with blackened faces.
The council deemed this an appropriate punishment for their brother's elopement with a married woman from the higher Jat caste. The brother, known as Ravi, is reportedly from the Dalit caste, which is India's lowest, formerly known as the "untouchables." He ran away with his beloved despite fears of retribution.
"Nothing could justify this abhorrent punishment. It's not fair. It's not right. And it's against the law. Demand that the local authorities intervene immediately," Amnesty International said, calling on people worldwide to sign their petition to persuade the Indian government to intervene.
Fearing for their safety, both sisters fled their village along with their family back in May. Their house was looted soon thereafter.
The Jat caste is very powerful in the village, Amnesty quoted Sumit Kumar, another of Meenaksh's brothers, as saying. "The Jat decision is final."
READ MORE: Indian man facing death penalty for gang rape says victim 'should be silent and allow the rape'
Amnesty UK's Urgent Action Coordinator, Rachel Alcock, told the Mirror that such "disgusting" punishments are common in the villages all over India. "These Khap courts routinely order vile sexually violent punishments against women. India's Supreme Court has rightly declared such orders illegal."
The Supreme Court has labeled such local councils "kangaroo courts" and branded their decisions as illegal. However, this has not halted such local trials in various states.
Meenakshi has filed a petition with the Supreme Court, asking for protection. Harassment complaints have also been launched against locals and the police from her village.
As for the supposedly runaway lovers, there have been conflicting reports over their whereabouts and whether the woman consented to elope.

According to Amnesty's version of events, there are concerns over the safety of Ravi's lover. Zee Media reported that the couple were allegedly in love with each other prior to the woman's marriage. After she was married to another man in February, she reportedly fled and eloped with Ravi in March.

The Times of India says the runaway couple "had to return, due to pressure from the girl's family and the UP [Uttar Pradesh] police," citing the text of Meenakshi's petition. The petition reportedly claimed that the "elopement invited the wrath of the Jat community and UP Police and as a retaliatory measure her family members were abducted and tortured by police."

Meenakshi's brother was allegedly accused in "a false narcotics case" and arrested.

According to the New Indian Express, the couple was found in the city of Meerut, two months after they eloped, and the woman accused Ravi of abducting her. Local police denied the existence of a council "diktat" altogether, saying that the man has been jailed in Meerut, awaiting trial on charges of abducting a married woman.
READ MORE: 4 attackers in Delhi gang rape case sentenced to hang
The widespread problem of rape in Indian society was brought into the global spotlight in December 2012, when a brutal gang rape case in Delhi prompted thousands of people to protest in the streets and hold candlelight vigils. Six men, including one underage teenager, took part in the horrific attack, raping and killing a 23-year-old physiotherapy student. Four adult attackers were eventually sentenced to hang, while one hanged himself in prison. The court, however, has stayed the executions to allow for appeals.
The public outcry persuaded the Indian government to double prison terms for rapists to 20 years. New legislation was also introduced, making it a crime for police officers to refuse to open cases when allegations of rape are made.

The National Crime Records Bureau estimated that one woman gets raped every 22 minutes in India. In May 2014, two teenage cousins were gang-raped and murdered in the small village of Katra Shahadatganj, in Uttar Pradesh.
You can share this story on social media: