Indian man facing death penalty for gang rape says victim 'should be silent and allow the rape'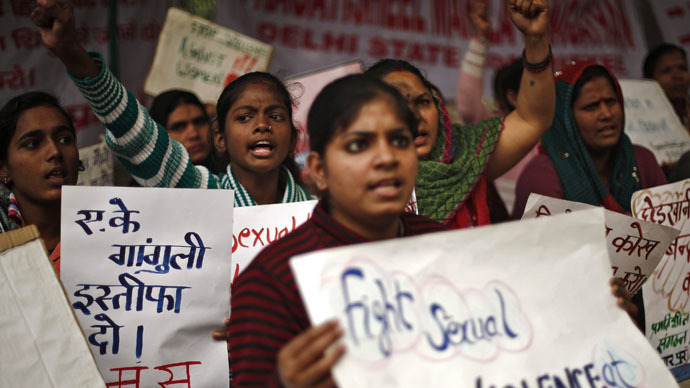 An Indian man sentenced to death for his part in a gang rape and killing a woman in New Delhi says they would have let her live if she hadn't fought back. Mukesh Singh aired his views in a documentary: "She should just be silent and allow the rape."
Singh was driving the bus when the brutal gang rape took place in the Indian capital in December 2012. He was one of four men who took part in the horrific ordeal, which the 23 year-old physiotherapy student never recovered from. She died 13 days later in a hospital in Singapore.
Two years and three months later, Singh still shows no remorse for an attack that left a family in tatters and led to mass protests on the sub-continent at the lack of women's rights.
He told British documentary maker Leslee Udwin that if their victim had not fought back she would not have been killed. The bus driver said: "Then they would have dropped her off after 'doing her,'" as reported by AP.
It's hard to imagine how someone can be this callous and ignorant... #Delhirapisthttp://t.co/iKuqEllhkvpic.twitter.com/X75svVOWQF

— Marie Claire (@marieclaireuk) March 3, 2015
While conducting the interview, Udwin said she had read out a list of all the injuries that the woman had suffered when speaking to 28 year-old Singh. However, he showed no emotion.
"He is almost like a robot. I tried everything, every trick I knew to try and make him have a tear in his eye or something to see if there was any remorse," she said, according to AFP.
READ MORE: 4 attackers in Delhi gang rape case sentenced to hang
The 23 year-old had been out with a male friend in New Delhi when they were tricked into getting onto the bus, which the men had taken for a joyride. The attackers savagely beat up her friend, before taking turns to rape the woman, penetrating her on numerous occasions with a metal rod, which left her with severe internal bleeding.
Despite the fact the man is facing death by hanging, he still blames the woman and alleges she wanted the men to rape her.
"A girl is far more responsible for rape than a boy," Singh said, according to the transcripts from the interview, which were published on Tuesday. "A decent girl won't roam around at 9 o'clock at night .... Housework and housekeeping is for girls, not roaming in discos and bars at night doing wrong things, wearing wrong clothes," AP cites him as saying.
Singh added that he and his friends had decided to rape the 23 year-old in order to teach women a lesson that they should not be out late at night. "She should just be silent and allow the rape."
READ MORE: Fightback: 2 college girls beat molesters with belts on Indian bus (VIDEO)
He also mentioned that the death penalty for rape crimes will just make the situation worse for any future victims. "Now when they rape, they won't leave the girl like we did. They will kill her," Singh said.
Singh and three other men were convicted of rape and murder in 2013, after initially confessing to carrying out the brutal attack. However, they later retracted their statements, saying the police had tortured them. They are currently appealing their death sentences, while India's Supreme Court will hear their cases.
In addition to the four men, a 17-year-old teenager was sentenced to three years in a reform facility after being found guilty in August 2014 of participating in the rape. As he was technically a minor under Indian law when the crime was committed, three years was the maximum possible sentence he could receive.
The public outcry that followed the incident, with mass street protests, saw the Indian government double prison terms for rapists to 20 years. The new legislation also makes it a crime for police officers to refuse to open cases when complaints are made.
Filmmaker Leslee Udwin said she wanted Nirbhaya documentary to be premiered on an Indian channel first 'needs to be seen by Indian audiences

— sonia singh (@soniandtv) March 3, 2015
According to the National Crime Records Bureau, one woman gets raped every 22 minutes in India. The situation does not seem to be improving. In May 2014, two teenage cousins were murdered in the small village of Katra Shahadatganj, in Uttar Pradesh.
The girls went missing when they went into nearby fields to relieve themselves, as they had no bathroom at home. Their bodies were found the following day, hanging by their necks on a mango tree. The post-mortem examination confirmed they had been gang-raped before the killing.
Despite the soul searching that has taken place in Indian society, there is still a long way to go before attitudes towards women change.
"Indian society is such that it thinks rape is normal, that rape is a part of a woman's fate," sociologist Shiv Visvanathan told AFP.
"Our attitude to rape is as if the victim asks for it and the male is nowhere in sight of blame - it is the circumstance, the provocation and whole series of symptoms, but men are never blamed," added Visvanathan.
You can share this story on social media: