Two far-right Ukrainian militants to stand trial in Russia's Chechnya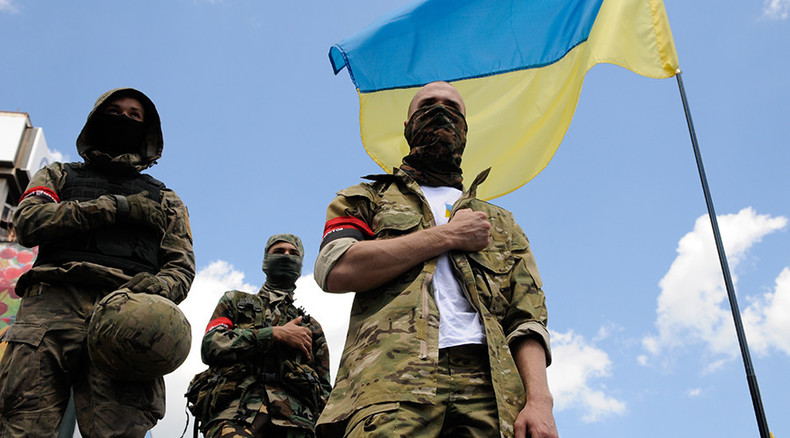 Two members of UNA-UNSO, a Ukrainian nationalist organization, are to stand trial in Chechnya for committing serious crimes while fighting alongside Chechen militants, said Russia's Investigative Committee.
READ MORE: Russia to add 2 Maidan leaders to intl wanted list over Chechen militant links
The criminal investigation into Nikolay Karpuk and Stanislav Klukh, who are members of a far-right Ukrainian political organization called Ukrainian National Assembly – Ukrainian People's Self-Defense (UNA-UNSO), has been closed, said the head of Russia's Investigative Committee, Vladimir Markin, on Wednesday.

"We have collected sufficient evidence" to pass it on to court for review, Markin said. Karpuk and Klukh are accused of murder and being members of a criminal gang, he added.

According to investigators, UNA-UNSO is a far-right paramilitary political organization, which was created in Ukraine in the 1990s to "counter Russian authorities and exterminate Russian nationals."
At approximately the same time, militant groups aimed at creating an Islamic state were established in Russia's Republic of Chechnya, the committee said. It added that some Ukrainian nationals, including Karpuk, Klukh, Alexander Malofeyev, and Alexandr Muzychko joined the Chechen militants.

Karpuk and the notorious Aleksandr Muzychko, who was killed in Ukraine last year, led a gang called "Viking." The group also included Dmitry Yarosh, the notorious leader of Ukraine's Pravy Sektor (Right Sector) organization. On March 5, 2014, Russia put Yarosh on an international wanted list, charging him with inciting terrorism after he urged Chechen terrorist leader Doku Umarov to launch attacks on Russia.

During the period from December 1994 to January 1995, Karpyuk, Klukh, Malofeev and other members of the gang were involved in clashes with Russian Federation armed forces in Chechnya resulting in the deaths of at least 30 soldiers, the investigators said.
Karpuk and Dmitry Korchinsky along with others, including several leaders of UNA-UNSO, collaborated with Chechen militants headed by warlord Shamil Basaev and Aslan Maskhadov, attacking civilians, Russian troops, and law enforcement officials.
READ MORE: Notorious Ukrainian nationalist on international wanted list over Chechnya killings
Meanwhile, the Ukrainian Justice Ministry has registered UNA-UNSO as a political party, enabling it to take part in local elections in October, the party's press service announced, as cited by TASS on Wednesday.
In November 2014, Russia's Supreme Court declared UNA-UNSO an extremist organization.

UNA is the political wing of the party, while UNSO is the military wing. The UNA was established in 1990 and led by opposition figure Korchinsky. In 1991, UNSO paramilitary squads were formed in Kiev from Ukrainian Soviet army veterans who had fought in Afghanistan. The party participated in the 2012 Ukrainian parliamentary election, but failed to win any seats.
Members of the UNA-UNSO took part in the Maidan events which resulted in a government coup in Ukraine in 2013. The Right Sector movement was also reportedly very active in the violence that led to the deposition of President Viktor Yanukovich.

In March 2014, the UNA merged with the Right Sector extremist political organization, the activities of which are outlawed in Russia. The UNSO wing continues functioning as a public association.

Yarosh has called on the Kiev government to renew military actions in eastern Ukraine and reject the Minsk peace deal.