Notorious Ukrainian nationalist on international wanted list over Chechnya killings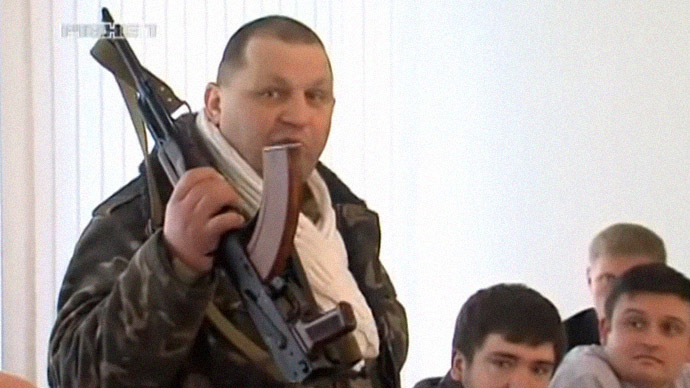 Russia's Investigative Committee initiated a criminal case against notorious Ukrainian nationalist, Aleksandr Muzychko. The Ukrainian is accused of torturing and murdering at least 20 captured Russian soldiers as he fought alongside the Chechen militants.
Also known as Sashko Bilyi, the man took active part in the First Chechen War in 1994-1995, when he headed a group of Ukrainian nationalists fighting against Russian troops.
"Today a court in the city of Essentuki, Stavropol region, issued a decree on indictment of Aleksandr Muzychko as a defendant, and an international arrest warrant has also been issued," stated Vladimir Markin, the spokesman for Russia's Investigative Committee.
Muzychko is charged with forming and supervising an armed gang organized for the purpose of attacking Russian citizens, Markin said.
"Muzychko brutally tortured captive servicemen of the Russian federal forces, killing them afterwards. Over the stated period (1994-1995) Muzychko personally tortured and then killed at least 20 prisoner servicemen, demanding the information he needed," Markin said.
During interrogations he used to break officers' fingers, poked their eyes out using various instruments, used pliers to tear out peoples' teeth and nails, cut throats of some of the victims, gunning down the others.
"Through his actions he expressed hatred towards Russian servicemen," Markin said.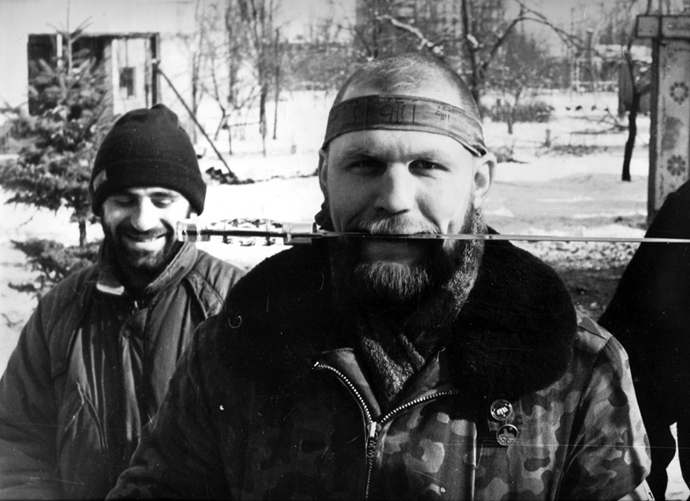 Information about Muzychko's deeds in Chechnya were obtained from a captured Ukrainian nationalist fighting against Russian troops during the Second Chechen War.
The witness used to be a member of UNA-UNSO (Ukraine National Assembly – Ukraine National Self-Defense), an ultra-nationalist organization and he fought Russian troops in Chechnya from 1994 to 2000.
The man joined UNA-UNSO in 1991 and got acquainted with Aleksandr Muzychko at a training camp near the city of Ivano-Frankovsk in western Ukraine, where militants were training in shooting and hand to hand combat. The witness specialized in sniping.
Muzychko was one of the leaders there, being an instructor in fighting tactics. He also was responsible for propaganda and indoctrination among the recruits.
The training started in spring 1993 and lasted for 18 months. In December 1994 the best trained Ukrainian nationalists were sent to Chechnya. First they gathered in Kiev, to be taken to Georgia on a military jumbo jet. Shortly before the New Year they reached Grozny, the capital of Chechnya, and fought against Russian troops storming the Chechen capital. As UNA-UNSO leader in Chechnya, Muzychko was in command of a number of subversive groups, Markin reported.
"In January 1995 the witness saw Muzychko torturing and killing Russian officers," Markin said, adding that the witness identified Aleksandr Muzychko from a photograph as the person he served with in Chechnya.
The testimonial evidence exposing the facts of torture and mass murder perpetrated by Aleksandr Muzychko came up during investigation of the battle of a large detachment of Chechen militants headed by warlord Shamil Basaev, and Arab mercenary, Khattab, and Russian paratroopers from 76th Pskov Division. The combat took place in 2000 near the Chechen village of Ulus-Kert. A squadron of 90 paratroopers fought with approximately 2,000 militants, killing about 700 of them. The squadron lost 85 servicemen that day.
Aleksandr Muzychko has come under the spotlight of the Russian authorities after a series of scandals in Ukraine.
The Ukrainian radical nationalist leader went on with the rampage against regional authorities, lashing out at a local prosecutor and threatening local authorities with an AK-47.
You can share this story on social media: