Ukrainian nationalist with AK-47 threatens to hang Interior minister 'like a dog'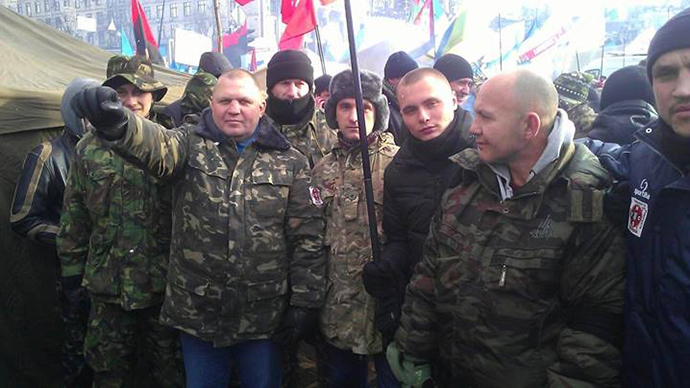 Far-right leader Aleksandr Muzychko is facing up to five years in prison for assaulting a prosecutor in western Ukraine. However, he's still at large because authorities fear the radical nationalist, who usually carries an AK-47 with him.
The criminal case against Muzychko has been launched in accordance with the article of "intentional infliction of battery to a law enforcement official," the Ukrainian General Prosecutor's office said in a statement.

A source at the Rovno (Rivne) Oblast prosecutor's office has confirmed "there's a case. It's under investigation."

"Don't write that I said this to you. Sasha Bely (Muzychko's nickname) will come after me. He promised to come after everyone," an unnamed clerk told Komsomolskaya Pravda newspaper.
Muzychko and his associates arrived at the Rovno Oblast prosecutor's office on Thursday after hearing claims that a criminal investigation into the murder of a local woman had been delayed.

With the regional prosecutor absent, the high ranked member of the Right Sector radical movement turned his rage to the procedural solicitor.

Muzychko nearly strangled the clerk with his tie, punching and verbally abusing the official. The leader said he is aware that he may be arrested – but he doesn't seem too worried about that possibility.

"Yes, they want to detain me. But I won't give up. I mean it. They'd better go to Crimea and do their job," he stressed.

The far-right activist, who fought in the Chechen conflict against Russian troops, is making headlines in Ukraine.

He recently brandished his Kalashnikov in front of regional authorities in Rivno and openly made a series anti-Semitic statements.
You can share this story on social media: