Taiwanese boy unwittingly 'punches' hole through $1.5mn painting (VIDEO)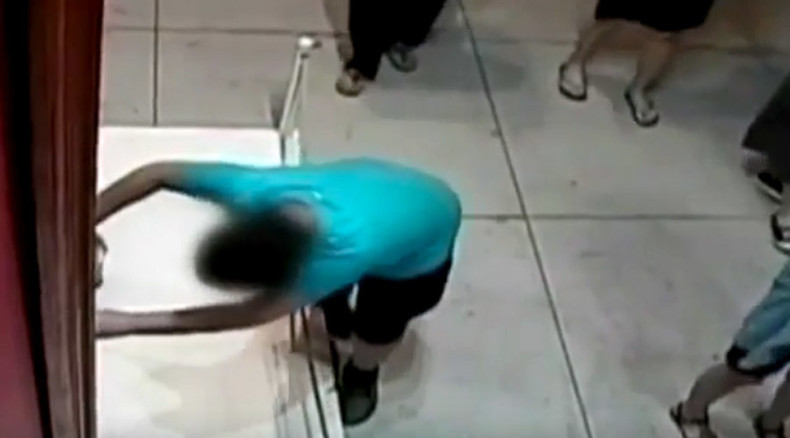 A boy from Taiwan had a visit to a museum he will never forget, as he unwittingly "punched" a hole through a painting worth $1.5 million. The kid stumbled and his hand went straight through the Paolo Porpora masterpiece as he tried to catch his balance.
The incident, which happened Sunday, was caught on closed circuit television. The 12 year-old boy was carrying a drink in his hand when he appeared to trip. Unfortunately, his momentum took him straight toward the painting, and he instinctively put out his hand to try and break his fall, which left a fist-sized hole in the work of art.
The boy looked around sheepishly as the crowd of people moved away from the Paolo Porpora oil canvas paining "Flowers," which was painted in the 17th century and is valued at around $1.5 million.
That sinking feeling: Falling 12yo punches hole in 17th century painting worth $1.5mn. p.s. His family will not be asked to pay restoration costs

Posted by RT Play on 25 августа 2015 г.
The curator of the exhibition, Andrea Rossi, is now seeing how the painting can be restored. However, he said the boy should not be blamed and that the family would not be asked to pay for the restoration costs and compensate the owner of the artwork, Focus Taiwan News reported.
"All 55 paintings in the venue are authentic pieces and they are very rare and precious. Once these works are damaged, they are permanently damaged... we hope that everyone can protect these precious artworks with us," TST Art of Discovery said in a post on the exhibition's Facebook page.
Paolo Porpora was an Italian painter of the late Baroque period who mainly specialized in still life floral scenes.