A whale of a tale: Huge humpback caught up close & personal off Canadian coast (VIDEO)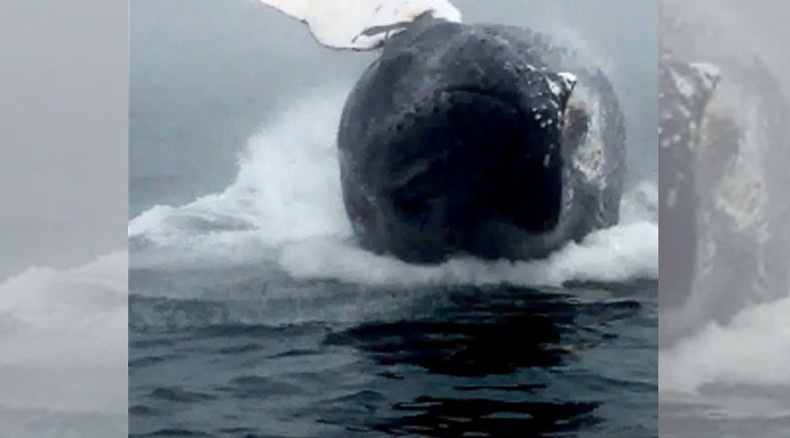 Here's whale-watching gone large: watch an enormous, back-flipping whale caught on film off Canada's Brier Island during a marine cruise.
The video, shot by a whale enthusiast, shows seemingly calm waters for a while, and then – splash! The humpback whale appears out of the water, hops and backflips.
Onlookers yelp, "Wow!" and "Yeah!" – with some just gasping in amazement and laughing happily.
READ MORE: 'Mysterious' sea creature with furry tail washes ashore in Russia's Far East

Penny Graham was working as guide for Mariner Cruises Whale and Seabird Tours last Friday, and took a photo of the whale, framed by a shower of spray and fog. She told CBC it's a moment she'll never forget.
"It was the angle that made it so phenomenal. That whale was upside down heading towards us," Graham told Ohio's 10TV.
READ MORE: Playful shark halts China military exercise
"I started whale-watching in 1984 with my husband Roy, when he was alive, and never before have I captured a whale in that position," she said.
Scientists say whales leap out of the water for various reasons: to shake off parasites, to scare fish into a tighter school to make them easier to catch and eat, and to communicate.
This time, Graham told the channel, she thinks "that whale was having just as much fun as we were."
"I think it was doing it out of pure enjoyment," she said.
The spectacular footage was taken by Sandy Seliga, a visitor from Toronto, and was posted on the website of the Conservation Council of New Brunswick.