No bulls-eye: Playful shark halts China military exercise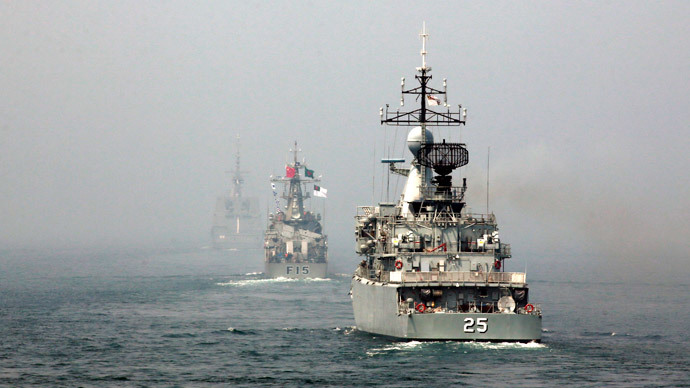 A curious bullhead shark was attracted to the waters of Chinese naval drills by the colorful balloon targets being used. The fish forced the officers to hold fire.
A Chinese naval flotilla was conducting a drill on an escort mission to the Gulf of Aden in the Arabian Sea, when the shark appeared, stopping the exercise, the South China Morning Post newspaper reported on Thursday.
Don't shoot! Playful bullhead shark halts China military exercise http://t.co/4selRmGuFRpic.twitter.com/YO2jQyOm9E

— SCMP News (@SCMP_News) January 29, 2015
According to the People's Liberation Army's (PLA) naval news portal, the flotilla was led by the replenishment ship Weishanhu. Its gunners laid out dozens of bright balloons as targets in a two-nautical-mile area.
China's supply ship "Weishanhu" completes missions and returns from Somali waters.http://t.co/qRAajRYkpic.twitter.com/1JDKkc4w

— 人民网 people.cn (@peopledailyusa) September 22, 2012
Gunner Tong Yang noticed a bullhead shark, playing around with the ball he was targeting, as he was preparing to pull the trigger. His superior "ordered him to hold fire," the report said.
READ MORE: Incredible drone footage: Watch whale sharks feasting on plankton
In 2015, Russia and China are set to conduct regular joint naval exercises in the Mediterranean and Pacific. The countries' defense ministers seek to form a regional collective security system in the Asia-Pacific region, they revealed at a meeting last November, TASS reported.
You can share this story on social media: