One way ticket? Macedonia lets thousands of migrants through to EU amid bloc's crisis
At least 5,000 migrants arrived in Serbia on Sunday on a journey further west, after neighboring Macedonia's attempts to forcefully prevent the refugee flow failed. Concerned European leaders have made calls to "radically change" migrant policies, before the EU "loses its soul."
Thousands of refugees – mainly from war-torn Syria, as well as from Africa and Asia – traveled towards Serbia this weekend, after having broken through the Greek-Macedonian border in a bid to make it further into the EU. While Macedonian police initially resisted the flow, with stun grenades and tear gas having been used against desperate migrants, the country has then decided to transfer migrants to Serbia.

READ MORE: Macedonian police use stun grenades on migrants at Greek border, thousands break through (VIDEO)


On Sunday, border and riot police in the Macedonian city of Gevgelija helped the refugees onto trains and buses. Extra transport was ordered to take migrants to Serbia, with huge queues of people waiting for their documents to get processed.

"It's been madness throughout the night with people everywhere, buses coming and going and taxis arriving from other towns," a taxi driver told AFP.

With the flow continuing at a steady pace in Greece, which is setting up boat transits from its islands to the mainland for dozens of thousands of people, and Macedonia having cleared the backlog, thousands arrived in Serbia overnight.

"The Macedonian police told us 'Welcome to Macedonia; trains and buses are waiting for you'," the surprised Abdullah Bilal from Syria's Aleppo told Reuters.

More than 5,000 have entered the country to transit north before they cross by foot into Hungary and Europe's borderless Schengen zone, according to Serbian Defense Minister Bratislav Gasic. "We expect the wave in the next day or two to be of a similar intensity," the official said, as cited by Reuters. Another Serbian government official who declined to be named said it was "the biggest number in one day so far."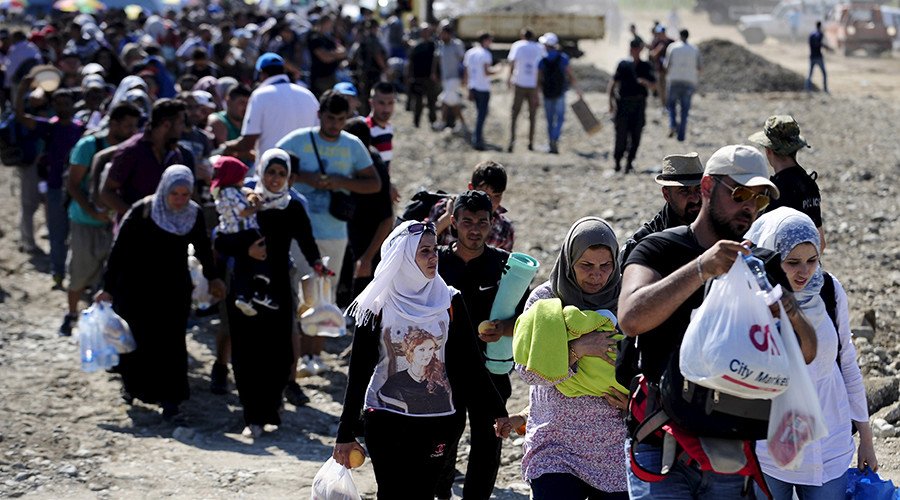 Over 100,000 migrants have crossed into the EU over the past month, with the record influx and the latest developments on the borders near western Europe having left EU officials even more frustrated.
The refugee crisis has been named Germany's "biggest challenge since reunification" by its Vice Chancellor Sigmar Gabriel on Sunday, Germany's branch of The Local reported. European law-makers should "do much more" and "radically change its policies," Gabriel said in an interview with Germany's ARD public broadcaster.

The Italian Foreign Minister went along the same line on Sunday, having said the "soul" of the EU with the free movement of people across the bloc is under threat following the situation at the Greece-Macedonia border.

"On immigration, Europe is in danger of displaying the worst of itself: selfishness, haphazard decision-making and rows between member states," minister Paolo Gentiloni told Il Messaggero newspaper, as quoted by The Local. "Today it is on this issue that Europe will either rediscover its soul or lose it for good," the official added, saying that the free circulation of people in the EU was "at risk."

READ MORE: 'Foreigners out!' 30+ police injured after clashes at anti-migrant demo in Germany

Greece and Macedonia are just some of the countries that lie on the refugees' path after fleeing war, hunger and poverty in their native lands. Macedonia has been asking the EU to step up its own efforts and criticized its neighbor Greece for dealing with the refugee crisis in a way that made the migration pace over to its borders completely incompatible with processing abilities.
Serbia is already struggling with the unprecedented inflow – its own economy not facing the best of times, and it has hastily set up refugee centers which have quickly reached full capacity . Meanwhile, Slovakia has said it would prefer to accept Christian refugees as part of a European plan to resettle people, and Hungary has decided to build a barbed wire fence encircling its border to prevent any unauthorized migration.
The migrant crisis has been eclipsing all other topics on the Brussels agenda for months. While migrants continue to arrive, EU leaders have admitted that the crisis is a real elephant in the room, testing the bloc's unity.
LISTEN MORE:
You can share this story on social media: