'Foreigners out!' 30+ police injured after clashes at anti-migrant demo in Germany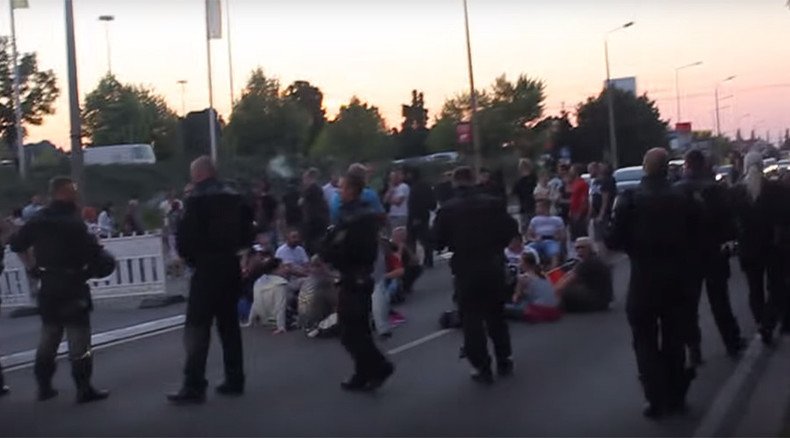 Around 600 far-right demonstrators and police clashed at an opening of a new refugee center in eastern Germany, with over 30 officers being treated for injuries afterwards. Asylum applications in the country have quadrupled in the space of a year.
The first busload of asylum seekers was supposed to arrive at a former hardware store, hastily repurposed into a 250-bed accommodation facility in Heidanau, near Dresden, on Friday evening. The city is the birthplace of the anti-immigrant Pegida movement.
In anticipation of the bus, around 1,000 protesters, marshaled by the far-right National Democratic Party, stood outside the facility, shouting "Foreigners out!" and holding placards saying "Stop the immigrant flood!" as well as chanting the "We are the people!" slogan adopted by Pegida.
The initial demonstration, heavily policed by officers in riot gear, passed peacefully, but as darkness descended, chaos broke out.
A radical rump of the protesters blocked the road leading to the center, and when police attempted to disperse them, began throwing bottles, stones and firecrackers at the uniformed men. Riot vans then released tear gas, and officers and protesters engaged in scuffles.
Eventually, order was restored, and close to dawn, the first 93 refugees arrived at the center.
An unspecified number of perpetrators of the violence have been taken into custody.
"We must never tolerate people in our country being threatened or attacked. We must pursue this with the full force of the rule of law. There can be no tolerance for xenophobia or racism," said a statement from justice minister Heiko Maas.
"Sometimes you don't want to be a foreigner in our country. But neither do you want to be a German. I am ashamed of these racists in Heidenau," tweeted deputy foreign minister Michael Roth.
Concerns about immigration have pushed Greece and Ukraine out of the headlines in Germany over the past month.
The latest figures show that the country is on course to receive 800,000 asylum applications this year, more than the rest of the EU put together. This is partly due to German authorities accepting 40 percent of all the asylum applications it receives, by some distance the highest rate of any country in Europe.
The influx has overwhelmed Germany's municipal authorities, and cities such as Hamburg, have resorted to putting up "tent cities" on the outskirts, to provide shelter for those who cannot be given permanent accommodation.
The visible presence of asylum seekers, who do not just come from warzones such as Syria and Iraq, but also peaceful countries such as Albania, Kosovo, and Eritrea, has provoked a backlash. Police have opened investigations into several instances of arson of immigrant housing.
You can share this story on social media: