Al-Qaeda overruns parts of strategic Yemeni port 'liberated' by Saudi-led coalition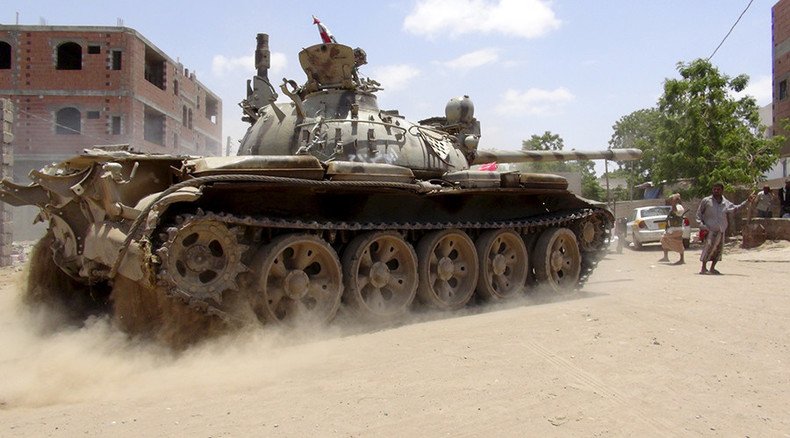 Taking advantage of a power vacuum in Yemen following months of Saudi airstrikes and battles between Houthi militias and those loyal to exiled President Hadi, Al-Qaeda fighters have reportedly managed to capture key parts of the recently "liberated" strategic seaport city of Aden.
According to military sources and witnesses on the ground, alleged Al-Qaeda militants have now managed to take several key neighborhoods in and around Aden, both AFP and AP reported.
An anonymous Yemeni official told AFP that Al-Qaeda fighters entered Aden two weeks after Saudi-backed forces drove the Houthi fighters out on July 17 and the exiled Yemeni government announced the "liberation" of the port city.
Militants have managed to take parts of the city's commercial district, Crater. They also destroyed a secret police headquarters, a four-story building in the Tawahi district. According to witness accounts Al-Qaeda has been trying to gain support on the ground, and so far, has not resorted to inhumane treatment of the locals.
More alarming are the reports that Al-Qaeda also managed to capture an army base just north of Aden along with parts of the town of Dar Saad. Having taken control of the army base there, the jihadists set up a training camp for about 200 fighters.
READ MORE: 2 pilots killed in Saudi coalition helicopter downing near Yemeni border
AP sources added that Al-Qaeda is also present in the cities of Breiqa, west of Aden, and al-Khadra. Jihadists were also seen in al-Houta, capital of Lahj province. AFP has claimed that Al-Qaeda also controls Mukalla, capital of the eastern Hadramawt province.
Meanwhile the Saudi-led forces are busy chasing a combination of Houthis and supporters of the former Yemeni ex-president Ali Abdullah Saleh from other strategic parts of the country.
Following the capture of Aden, Riyadh has poured hundreds of tanks and other heavy machinery into the country.
A massive Hadi-loyalists force, which consists of armored vehicles, tanks and personnel carriers escorted by Apache helicopters, has been relocated to the central Yemeni province of Marib, according to the Emirates News Agency, WAM, in apparent preparation for an eventual push for the capital Sanaa.
Meanwhile elsewhere in the country, the Saudi-led coalition continued the bombardment of Yemen's Taez, its 'third city' held by Houthis, killing at least 80 people, mostly civilians, according to the Red Cross.
"My colleague was told that by noon yesterday, there were 50 killed; in the evening it went up to 80. These are figures we are receiving from various sides," Rima Kamal, a spokeswoman in Yemen for the International Committee of the Red Cross told AFP.
READ MORE: Religious eugenics: How Saudi Arabia is sponsoring a frightening new movement in the ME
As the number of dead has surpassed 4,000 and the country faces a devastating famine, a ceasefire proposal by Hadi has been handed to the UN envoy to Yemen in Saudi Arabia.
Under the proposed terms, the truce is to last for a minimum of 15 days, which could be extended "in conjunction with the withdrawal of the Houthi-Saleh militias from military and civil institutions of the state, all cities and provinces including Sanaa and Saadah."
Violence in Yemen escalated late March and the five months of Saudi-led airstrikes and ground battles in Yemen have created "catastrophic" conditions in the country, according to the Red Cross. The war has created a humanitarian catastrophe forcing more than 1.3 million people to flee their homes.
READ MORE: Yemeni president proposes 15-day ceasefire, dozens of civilians die in Saudi-led airstrike
With an average of eight child casualties every day since late March, the conflict has resulted in widespread destruction, according to UNICEF. Almost 10 million children equaling some 80 percent of the country's kids need urgent humanitarian aid.
LISTEN MORE:
You can share this story on social media: