2 pilots killed in Saudi coalition helicopter downing near Yemeni border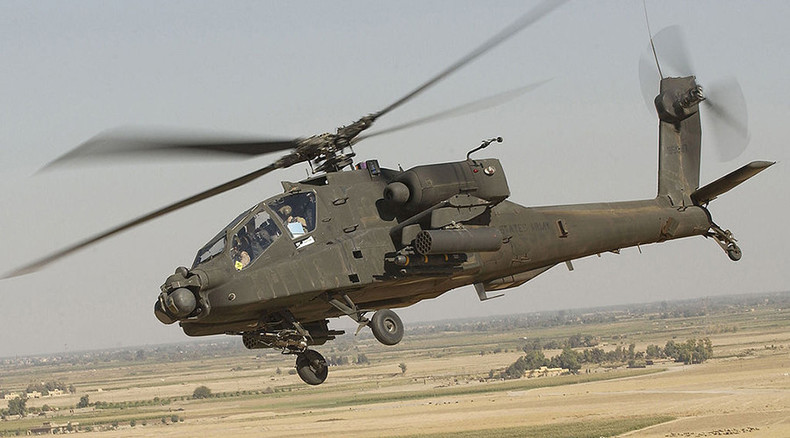 Saudi officials have confirmed the death of two pilots in a crash of Apache helicopter in Jizan province bordering Yemen, refusing to announce the cause of the incident. Meanwhile Houthi forces fighting the Saudi-led coalition claimed responsibility for the downing.
The two Saudi pilots were killed while "performing their duty to protect the borders of the homeland against the attacking rebels," the Joint Forces Command has announced in a statement carried by the Saudi Press Agency.
The military did not announce any details or causes of the crash, saying the incident is still under investigation.
However, hours earlier a representative of the united military forces of Houthi rebels and supporters of Yemeni ex-president Ali Abdullah Saleh, claimed the helicopter was downed by a surface-to-air missile in retaliation to the ongoing airstrike campaign against the country. According to Yemen's al-Masirah TV, Houthis also launched a rocket attack on Saudi forces in the neighboring southern province of Najran.
Earlier this week, Saudi-led coalition aircraft bombed the Yemeni port of Hodeida, which is controlled by Iranian-allied Houthi forces and had become the main access point for aid to the north. The bombardment has worsened the already desperate situation in a nation pushed to the brink of famine, with millions of people facing possible starvation, according to the United Nations.
READ MORE: Yemen on brink of famine following bombing of vital port, UN says
Violence in Yemen escalated late March after a Saudi-led coalition began its airstrike campaign to support forces loyal to the exiled government of Abd Rabbuh Mansur Hadi. Months of bombardment caused large-scale destruction and eventually led to tanks and other military hardware deployments to break the stalemate on the ground.
The five months of Saudi-led airstrikes and ground battled in Yemen have created "catastrophic" conditions in the country, according to the Red Cross.
READ MORE: Yemen bombed into Syria-grade catastrophe in just 5 months – Red Cross
"Yemen after five months looks like Syria after five years," the head of the international Red Cross, Peter Maurer told AP, after witnessing the destruction first hand. "The images I have from Sanaa and Aden remind of what I have seen in Syria."
With an average of eight child casualties every day over the four months since late March, the conflict has resulted in 4,300 deaths, mostly civilian, according to the UNICEF's Childhood Under Threat report.
The war has created a humanitarian catastrophe forcing more than 1.3 million people to flee their homes. As a result of widespread destruction almost 10 million children equaling some 80 percent of the country's kids need urgent humanitarian aid, UNICEF said.
Meanwhile, Amnesty International is urging a war crimes probe into the "unlawful coalition airstrikes in densely populated residential neighborhoods" in addition to fighting in civilian areas between Yemeni Houthis and Saudi-backed coalition forces.