Yemen on brink of famine following bombing of vital port, UN says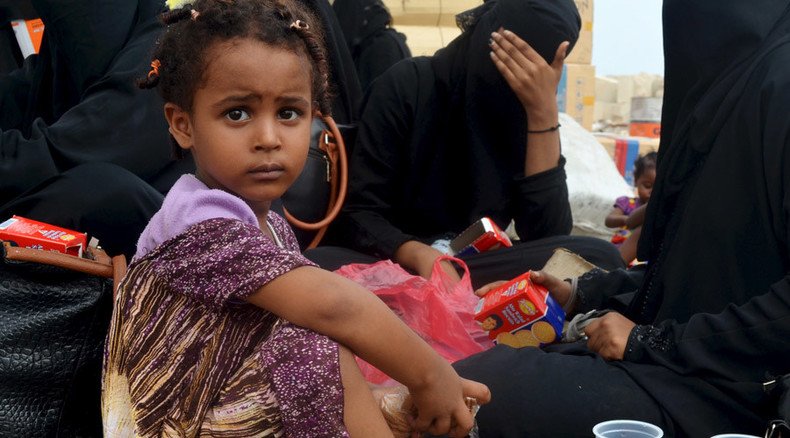 The war in Yemen has pushed the nation to the brink of famine, with millions of people facing possible starvation, the United Nations has announced. Women and children are particularly at risk as fighting near ports continues to stall food imports.
Some 13 million people – half the country – are hungry, while six million face starvation and urgently need food aid, the UN's World Food Programme (WFP) said on Wednesday.
Earlier this week, warplanes from the Saudi-led coalition bombed the port of Hodeida, which is controlled by Iranian-allied Houthi forces and had become the main access point for aid to the north. The bombardment has worsened the already desperate situation in Yemen.
The lack of basic food supplies, a shortage of clean water, and a diminished fuel supply have created "the dawn of a perfect storm for the most vulnerable Yemeni people," WFP Executive Director Ertharin Cousin said in a statement.
She added that the warning signs of famine "are in fact developing in front of our eyes," and that "damage to Yemen's next generation may become irreversible if we don't reach children quickly with the right food at the right time."
According to the WFP, more than 1.2 million children are suffering from moderately acute malnutrition, and over half a million are severely malnourished.
"We must act now, before it's too late," Cousin said.
The organization has also stated that the 1.3 million people who have been internally displaced in Yemen have been hit hardest by the lack of food, with many surviving only on bread, rice, and tea.
Yemen previously imported most of its fuel and 90 percent of its food, mostly by sea. However, the Saudi alliance has imposed a blockade on imports in an effort to cut off arms supplies to rebel forces.
The shortage of fuel affects the food distribution system, and has a "devastating effect on access to clean water, health, electricity, and other basic services," according to the WFP.
Violence in Yemen escalated in late March, after a Saudi-led coalition began an airstrike campaign in support of forces loyal to the exiled government of Abd Rabbuh Mansur Hadi. Months of bombardment has caused large-scale destruction, and has led to the deployment of tanks and other military hardware.
That destruction, according to the Red Cross, has caused the country to look like war-torn Syria after just a few months.
"Yemen after five months looks like Syria after five years," Red Cross head Peter Maurer told AP on Wednesday.
The day before, Amnesty International released its own report calling for a UN-commissioned investigation into war crimes committed by all parties in the Yemen conflict, accusing the warring sides of "blatantly" failing to take "necessary precautions to minimize civilian casualties."
The situation has prompted the United Nations to raise the humanitarian crisis in Yemen to its highest category, placing it alongside emergencies in South Sudan, Syria, and Iraq. It has said more than 21 million people – 80 percent of the population – in Yemen need help.
More than 4,300 people have been killed by the war in Yemen, many of them civilians. The conflict has also led to the spread of disease throughout the country.
LISTEN MORE:
You can share this story on social media: