Amnesty urges war crimes probe in Yemen conflict that killed & injured over 1,000 children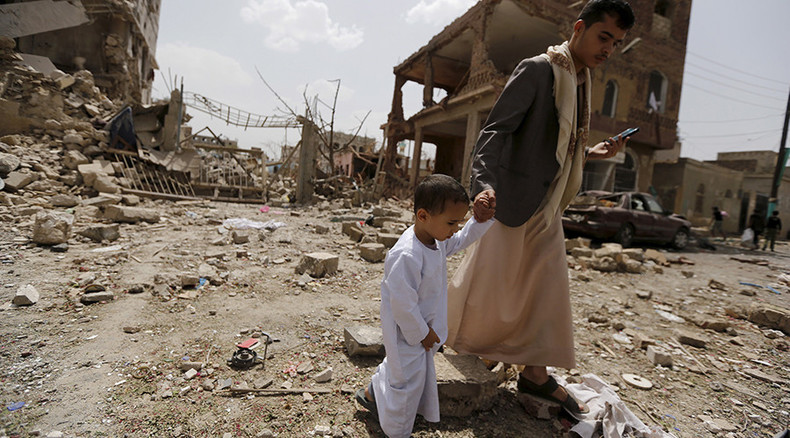 More than 400 children have been killed and at least 600 wounded since the Saudi-led military campaign in Yemen begun in late March, UNICEF said, warning that younger casualties might rise as youths are now being recruited as fighters in the civil war.
"This conflict is a particular tragedy for Yemeni children ... (they) are being killed by bombs or bullets and those that survive face the growing threat of disease and malnutrition," UNICEF Yemen representative Julien Harneis said, commenting on a new report by the agency.

With an average of eight child casualties every day over the past four months, the conflict has resulted in 4,300 deaths, mostly civilian, according to the organization's Childhood Under Threat report.
READ MORE: Over 20 Saudi-led coalition troops 'killed in friendly fire', govt. forces retake key city

The war has created a humanitarian catastrophe forcing more than 1.3 million people to flee their homes. As a result of widespread destruction almost 10 million children equaling some 80 percent of the country's kids need urgent humanitarian aid, UNICEF said.

"Children are bearing the brunt of a brutal armed conflict which escalated in March this year and shows no sign of a resolution," the UN agency said.
What is more shocking is that child fighter numbers have more than doubled to 377 so far in 2015 from 156 in 2014, as all sides of the war are using teenage boys to gain the upper hand. The boys see military fighting as one of the only means to support their families trying to survive, UNICEF said.

To add to the overall disintegration in the country, Yemen is witnessing a healthcare crisis. Nine hundred health clinics have closed over the past few months representing a quarter of the country's "crumbling" medical facilities.
As a result, around two million children under the age of 15 are at risk of malnutrition, while some 2.5 million children are at risk of contracting measles, a figure that has doubled since 2014.

On Tuesday Amnesty International released their own report calling for a UN-commissioned investigation into the war crimes committed by all parties in the conflict in Yemen, blaming the warring sides for "blatantly" failing to take "necessary precautions to minimize civilian casualties."
READ MORE: 'Deadly Saudi bombing possible start of resistance movement against regime'

"All the parties to this conflict have displayed a ruthless and wanton disregard for the safety of civilians," said Donatella Rovera, senior crisis response adviser at Amnesty International. "Civilians in southern Yemen have found themselves trapped in a deadly crossfire between Houthi loyalists and anti-Houthi groups on the ground, while facing the persistent threat of coalition airstrikes."

Saudi Arabia sent hundreds of armored vehicles and trained troops to help the supporters of Yemen's deposed President Hadi fight Houthi rebels in the country following months of air bombardments. Despite the airstrike campaign, the forces have been locked in stalemate until the Gulf States reinforced military contingent on the ground.
In a report, Amnesty criticized the "unlawful coalition airstrikes in densely populated residential neighborhoods" in addition to fighting in civilian areas by rebels and pro-government forces.
"Perpetrators of the callous attacks against civilians in Yemen need to know that they will pay the price and will be held responsible for war crimes," Rovera said. "If the international community fails to investigate and hold violators to account then such attacks and the rampant killing and injuring of civilians is only likely to continue."
LISTEN MORE: