Mahmoud Abbas resigns as executive chairman of PLO - reports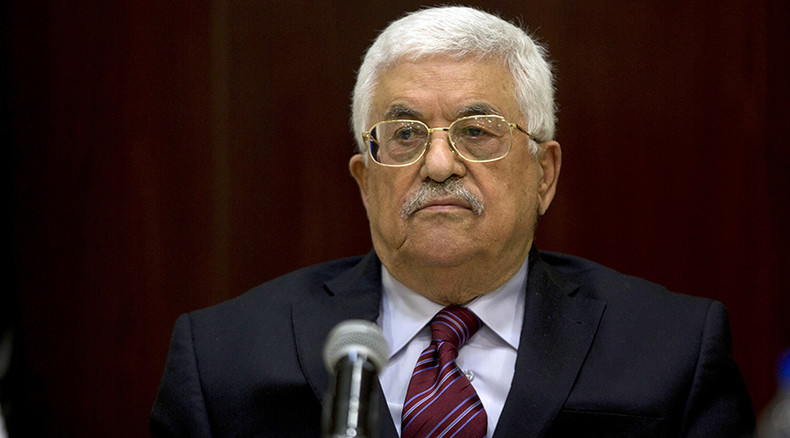 Palestinian Autonomy president Mahmoud Abbas has reportedly quit his post as the head of the Palestine Liberation Organization (PLO), which he held from 2004, alongside several other top lieutenants. Abbas will continue in his role as PA leader.
READ MORE: 'Tip of the spear': Israel razes 'illegal' Palestinian homes amid West Bank settlement expansion
The news, widely anticipated since earlier this week, was confirmed by the local Ma'an news agency, the Al-Arabiya news channel, AFP and by Abbas himself, when he spoke to a delegation of Polish journalists visiting the West Bank on Sunday.
"The resignation of the president of the executive committee Mahmud Abbas and more than half of its members has created a legal vacuum, and therefore the Palestine National Council (PNC) has been asked to meet in one month to elect a new executive committee," committee member Wassel Abu Yussef said.
Yussef and another senior official, Saeb Erakat, noted the resignations of the 10 committee leaders would not come into force until the PNC is gathered. All the officials will be eligible for re-election, if they put themselves forward.
"These resignations are needed to renew the work and legitimacy of the PLO Executive Committee. They are needed to inject new blood in the PLO. The dangerous conditions in the region require that we all strengthen our internal situation to confront Israeli aggression and escalation," said Ghassan Shaka'ah, another member of the committee, according to the Jerusalem Post.
The 18-man PLO executive committee serves as the de facto cabinet of the PA, which has control over the non-Israeli segments of the West Bank, but not Gaza.
The PNC, which comprises both Palestinians living in the West Bank and the diaspora, last met in 2009 to nominate six committee members.
But Yasser Abed Rabbo, a top PLO official recently dismissed by 80-year-old Abbas after a reported falling out, was reported by the Jerusalem Post as saying the resignation was a "silly charade" and added that he boycotted the committee meeting where the decision was made. One senior PLO official, Tayseer Nasrallah, also admitted to the Al-Quds newspaper that the move was a "formality" intended to ensure the PNC assembled in short order.
The news was also criticized by Hamas, which controls Gaza, and has a festering rivalry with the PLO. Hamas called the move a "play" in a statement, and said it was conceived to consolidate power in Abbas' hands and undermine ongoing negotiations between the political leaders in the West Bank and Gaza.
The #PA is not Abbas, and Abbas is not the PA or the PLO for that matter. It is the entire system which acts as the occupation's proxy.

— مريم البرغوثي (@MariamBarghouti) August 22, 2015
Mahmoud Abbas is a traitor; no 1 has done more damage to the Palestine cause than this quisling. Let's hope he's gone from the scene asap

— Gaza Writes Back (@ThisIsGaZa) August 22, 2015