'Caliphate allows cappuccinos': ISIS travel guide reaches Italy to lure talent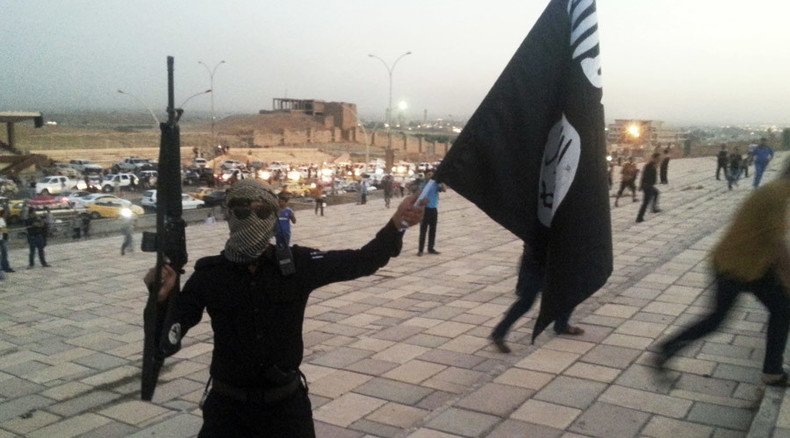 'A Brief Guide to the Islamic State' propaganda pamphlet has surfaced in radical circles in Italy, local media report. Describing Islamic State territories as "a cosmopolitan society" and "a plush holiday resort," it says living in the caliphate won't affect Costa Coffee fans.
The 46-page brochure was released in May in the UK in order to "provide an alternative narrative to life under the Caliphate."
Its author Abu Rumaysah al-Britani – former student of preacher and Islam4UK radical group founder, Anjem Choudary – described the Islamic State (IS, formerly ISIS/ISIL) as some kind of holiday destination "with an exquisite Mediterranean climate."
The Guide is aimed not only at attracting new fighters to their jihadist ranks, but also bringing skilled workers and intellectuals to the Caliphate. The book describes IS "as a magnet for talent, a cosmopolitan society with scholars."
The controversial brochure is now being used by IS to recruit engineers, doctors, data analysts and other specialist in Italy, Corriere della Sera reported.
Like an ordinal travel guide, al-Britani's work boasts such sections as food, weather, transport, people and more, explaining how to get to the Caliphate and receive maximum enjoyment from staying there.
In particular, the author assures that those who decide to join Islamic State won't be living on "stale bread and septic water."
READ MORE: ISIS boasts of 'bulldozing' ancient Catholic monastery in Syria
According to the guide, the Caliphate offers a variety of chicken, lamb and vegetarian dishes, including shawarma, sheesh kebab, and vegetarian sandwiches, all fresh and "100 percent halal."
Of course, there's no alcohol on the menu, but the jihadists can treat themselves with fruity cocktails, which are "very popular in summer and cost less than a dollar" and coffee because "the Caliphate serves the best lattes and cappuccinos around."
Ice-cream and all famous brands of Western chocolate bars are also available, the guide says in an effort to calm the sugar hounds out there.
READ MORE: 'Spare parts': ISIS fighters discuss prices of human organs on social media
As for the weather, al-Britani describes the Syrian and Iraqi territories held by Islamic State as "a plush holiday resort."
"Whether it is the sandy ruggedness of Barakah or the green hilly plains of Halab… I guarantee you will find the scenery truly breath-taking," he writes.
The guide acknowledges that it can get "very hot," adding that in order to cope with the heat, the Caliphate "ensure men and women are properly covered, which is such a blessing."
The book underlines that "Islam is no enemy to modern technology," saying that the jihadists widely use laptops, smartphones and the internet.
In the section entitled "People of the Caliphate," it says Islamic State "screams diversity" more than London or New York.
Painting a rosy picture, the guide never mentions other things IS supporters trumpet on social media, such as mass executions, beheadings, rape and other atrocities that have been committed by the militants during their two years of existence.

READ MORE: ISIS AIDS-bombs: Plans to send 16 HIV-positive fighters on suicide missions – report
Nevertheless, al-Britani concludes the brochure with harsh threats towards the West, which seem to be more in line with the way Islamic State positions itself:
"When we descend on London, Paris and Washington the taste will be far bitterer, because not only will we spill your blood, but we will also demolish your statues, erase your history and, most painfully, convert your children who will then go on to champion our name and curse their forefathers."
You can share this story on social media: