ISIS boasts of 'bulldozing' ancient Catholic monastery in Syria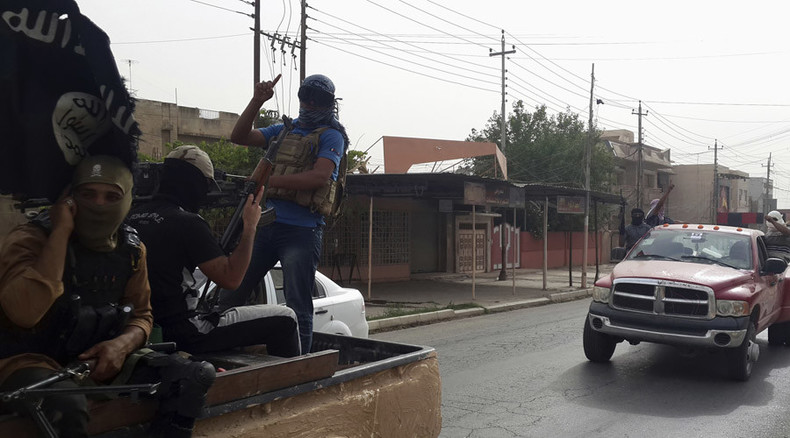 Islamic State has used bulldozers to destroy an ancient Catholic monastery in Syria, according to a monitoring group. Photos allegedly showing the destruction were posted online by the militants.
"The Islamic State [IS, formerly ISIS] group yesterday used bulldozers to destroy the Mar Elian monastery in Al-Qaryatain, in Homs province," said Syrian Observatory for Human Rights (SOHR) director Rami Abdel Rahman, as quoted by AFP.
Twitter accounts linked with IS allegedly posted pictures of the destruction, saying the site was destroyed because it was used for worshipping a god that wasn't Allah. The photos show parts of the ancient monastery reduced to rubble.
The militants did not appear to have completely destroyed the building – which dates back to the 5th century – with explosives, as they have done with shrines and other religious buildings in the past. The monastery is attached to a famous church of the same name, though it is unclear if it was also damaged.
It's not the first time the monastery has been targeted. In May, Syrian priest Jacques Mourad was abducted from the site by masked men as he prepared to receive residents of nearby Palmyra, who were fleeing an IS advance.
The Mar Elian monastery is located near the town of Qaryatain, which was captured by IS earlier this month. The extremist group kidnapped at least 230 people at the time, including dozens of Christians. Around 48 have since been released and 110 were transferred to Raqqa, according to SOHR. The fate of the other 70 hostages remains unclear.
IS has a history of targeting and destroying historic structures. In February, the group posted a video which showed militants demolishing ancient statues and other artifacts, saying they were symbols of idolatry. Some of the objects dated back to the seventh century.
In July 2014, the group destroyed a number of mosques and shrines in Iraq with explosives, posting photos of the destruction online.