Torn Koran prompts clashes between refugees & police in German town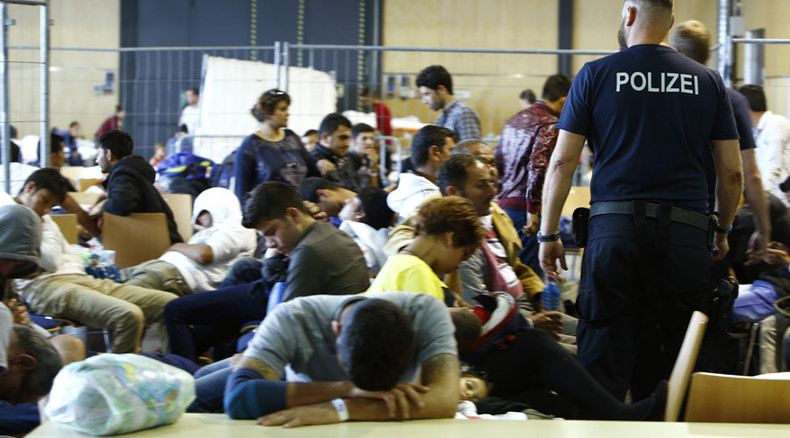 At least eleven asylum seekers and six police officers have been injured after scuffles broke out in a refugee shelter in Germany. The fight started after one of the migrants tore out pages from the Koran and dumped them in the toilet.
The incident took place in the town of Suhl in central Germany on Wednesday night.

A 25-year-old Afghan refugee seeker tore out pages from the Koran and threw them in the toilet, a police spokesman said, according to Reuters. At least 20 asylum seekers reacted aggressively and attacked him. Der Tagesspiegel reported that the number of those who joined the eventual brawl rose to 100.
When police tried to bring the situation under control, they were pelted with sticks and stones. Seven police cars were damaged in the incident.
No arrests were made following the incident, but the Afghan refugee was taken away by police for his own safety.
Local administration slammed the incident on Twitter, saying that it is "unacceptable".
According to State Migration Minister Dieter Lauinger, a "red line was exceeded massively" in Suhl.
READ MORE: German mayor says he wants more migrants, as refugees give town 'a chance'
Berlin is currently trying to cope with a huge influx of migrants coming from African countries and the Middle East.
On Wednesday, Interior Minister Thomas de Maiziere announced that the country expects about 800,000 migrants this year.
Germany's modern pro-immigration policy has sparked tensions across Germany, however. There were 150 arson or other attacks that damaged or destroyed refugee shelters in the first six months of 2015.
LISTEN MORE:
You can share this story on social media: