Greece must show 'more leadership' in tackling EU refugee crisis in 'dignified manner' – UNHCR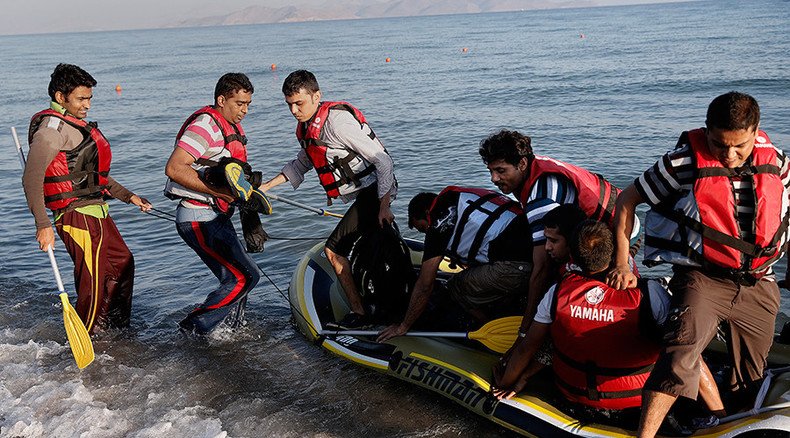 As Greece calls for EU help in processing and accommodating 21,000 migrants who arrived in the country last week – a staggering influx composing roughly half of all 2014 arrivals – the UN refugee agency has urged Athens to take responsibility for what happens on their territory.
The urgent need to address the migrant crisis stems from a tremendous 160,000 refugees arriving in Greece since the beginning of the year, with majority having crossed the Aegean from Turkey, the UN Refugee Agency (UNHCR) said.
"This country doesn't have the financial resources or the infrastructure to get through this in a dignified manner," said Greek government spokeswoman Olga Gerovassili.
READ MORE: Greek Coast Guard accused of sinking refugee boat by Turkish fishermen
Last month alone, Greece received 50,242 newcomers, outnumbering total arrivals in 2014, UNHCR spokesman William Spindler told reporters in Geneva, while the "pace of arrivals has been steadily increasing in recent weeks."
According to the UN more than 80 percent of those who have arrived are Syrians, followed by 14 percent Afghans and 3 percent Iraqis. Spindler says that the "overwhelming majority of arrivals are likely to qualify for refugee status."
But those who reach the safe haven of the European Union shores in Greece often face worse living conditions than in other European countries, as Athens remains paralyzed by EU-imposed austerity measure, and is unable to meet the needs of foreigners, with most forced to sleep outdoors in squalid conditions.
READ MORE: UNHCR urges Greece to resolve refugee crisis deemed 'shameful' for EU member

"For months, UNHCR has been warning of a mounting refugee crisis on the Greek islands," Mr Spindler said, highlighting that "reception infrastructure, services and registration procedures both on the islands and on the mainland need to be strengthened urgently."

Gerovassili said more reception centers were required.
"We must have new reception facilities ... We cannot continue to see these tragic images of children, people living under such circumstances."
Last week on the island of Kos the situation between locals and migrants became so tense that police were forced to lock migrants in stadium to process them, while using fire extinguishers to keep crowds back.
At the same time, the UN acknowledged that EU needs to do more to deal with the situation in the whole region, acknowledging that most migrants want to continue their journey on to northern Europe. At the same time the spokesman insisted that Athens must do more to organize the response.
"The government of Greece has the responsibility of what happens on its territory. We are ready to help them... but they need to show much more leadership," he said.
READ MORE: 'Out of control': Greek police beat migrants to stop brawls on troubled island of Kos

But Greek says that it needs needed better coordination from Brussels. "This problem cannot be solved by imposing stringent legal processes in Greece, and, certainly, not by overturning the boats," said Gerovassili, as she criticized other EU states for their anti-migration approach. The spokesperson added that building fences will not solve the crisis at hand.
To curb the migration crisis, several EU states have started implementing protectionist measures. Hungary has begun building a 175 km (110 mile) razor wire border fence, while the UK is combing efforts with France to tighten the security of the 30-km (19-mile) tunnel linking the two neighbors.
READ MORE: 'EU totally unprepared to deal with migrant crisis'

In addition to UN-released figures, Frontex, the EU external border protection agency said EU migrant flow reached a record high of 107,500 in July, as it too called for a better collaboration between EU capitals.

"This is an emergency situation for Europe that requires all EU member states to step in to support the national authorities who are taking on a massive number of migrants at its borders," Frontex Executive Director Fabrice Leggeri was quoted as saying in a statement by Sputnik news agency.
You can share this story on social media: