Israel restarts construction of controversial 'separation' wall near Bethlehem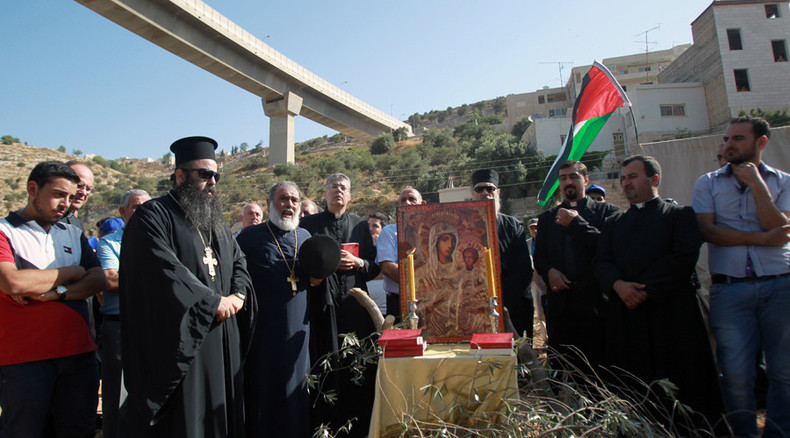 Israel has resumed a the construction of a controversial "separation" wall in the Cremisan valley, inhabited mostly by Palestinian Christians. The move is opposed by Palestinians who consider it a pretext for settlement expansion.
In spite of an April court ruling against any activity of the kind, the works on constructing the wall in the Cremisan valley, located near Bethlehem, started on Monday. The construction is a section of a wall Israel started building in 2002 citing security concerns.
To clear and dig the ground for a wire fence and a cement wall, olive trees have already been rooted out with bulldozers. According to initial plans , the Cremisan valley part of the wall was to run through the land owned by nearly 60 Christian Palestinian families, and was to separate a Roman Catholic monastery from its sister convent and school.
READ MORE: Israel approves building of 300 new 'illegitimate' West Bank homes amid demolition protests
The wall is set to divide the West Bank city of Beit Jala from the settlement of Har Gilo and the village of Walaja.
"This is the quietest area, and there are no problems here," Beit Jala Mayor Nicola Khamis said on Monday, as cited by Haaretz. "Today they uprooted 1,500-year-old trees. How they want us to live here in peace, I don't know."
The construction of the wall has been opposed by Palestinians, as well as local Christian leaders and the Vatican. They say it could encourage Israeli settlement expansion, leading to the annexation of Palestinian land, while cutting people off their land lots.
READ MORE: 45,000 demand Israel PM Netanyahu's arrest for 'war crimes' during UK state visit
In April, Israel's high court urged the defense ministry to reconsider the route of the wall, and the ministry reacted with a letter to a landowners' lawyer promising to exclude the monasteries from the plan. Last month a subsequent ruling permitted to go ahead with the wall, with slight changes to the plan for areas around buildings.
"They apparently haven't reconciled themselves to the ruling. What they're doing is 'feeding' the court, stage by stage. After they build the fence they'll say it's already up, then they'll ask to build the loops around the monasteries, because there won't be any choice," Giat Nasser, a lawyer of the Beit Jala municipality and the landowners, told Haaretz.
READ MORE: 'Disproportionate & indiscriminate attacks': Amnesty accuses Israel of Gaza war crimes
Nasser said that citizens still have the right to appeal again to the Supreme Court, and they are set to use it, urging to consider the concerns of all parties.