Bangkok police on lookout for 'suspect in yellow shirt' seen in CCTV footage at Monday blast site
Thai authorities are hunting for a suspect seen on CCTV footage near the Erawan Shrine in Bangkok, where a bomb blast wounded 123 people and killed 22 on Monday evening, including nine foreigners from various Asian countries.
According to National Police Chief Somyot Pumpanmuang, the suspect, wearing a yellow shirt and seen with a backpack in one CCTV image and then without it in another later, could be Thai or a foreigner. A Thai police spokesman has also confirmed that the man in the yellow shirt with backpack is a suspect in the Bangkok blast, AP reported.
"That man was carrying a backpack and walked past the scene at the time of the incident. But we need to look at the before and after CCTV footage to see if there is a link," Somyot told a news conference, stating that the blast was caused by a pipe bomb.

Prime Minister Prayuth Chan-ocha earlier said the suspect was seen on closed-circuit television footage near the site of a bomb blast.

"I have ordered the cameras to be checked because there is one suspect, but it is not clear who he is," he told reporters.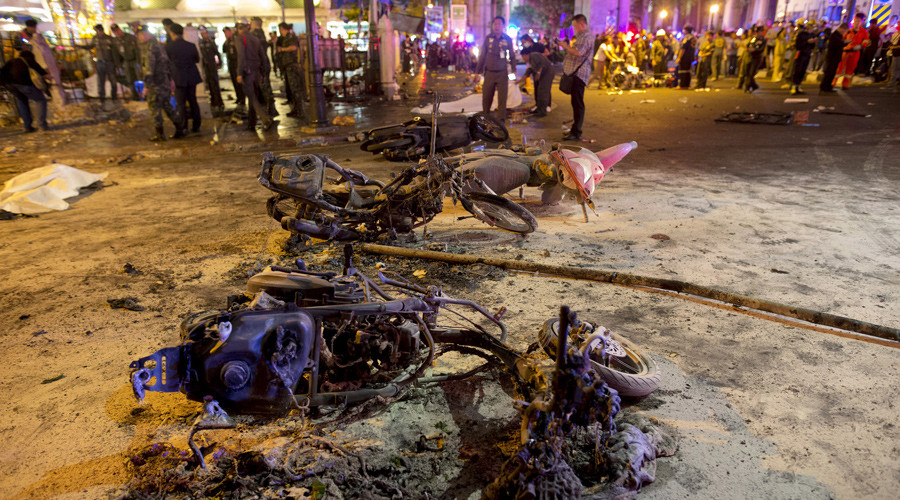 According to report.ly, an Australian English teacher was "wrongly fingered by some as the Bangkok blast suspect." The man identified by reported.ly as Sunny Burns, has allegedly already spoken to police.
No one has claimed responsibility for the attack that occurred during the Monday evening rush hour. Police earlier said they had not ruled out any group as being responsible, including elements opposed to the military government, even though officials say the attack didn't match the tactics of Muslim insurgents in the south.
READ MORE: Moment of deadly bomb blast in Bangkok caught on camera (DISTURBING VIDEO)

Thai Prime Minister Prayuth Chan-ocha has also referred to the man captured on CCTV footage as a suspect without giving further details, adding there were "still anti-government groups out there."
On Tuesday, Thai police reported a second explosion in Bangkok, which occurred at a ferry pier. Police Senior Sergeant Major Worapong Boonthawee says a hand grenade was thrown from the Taksin Bridge in the afternoon, which detonated at Sathorn Pier after falling into the Chao Phraya River below. No one was hurt.