29 top US scientists pen letter to Obama on 'unprecedented' Iran deal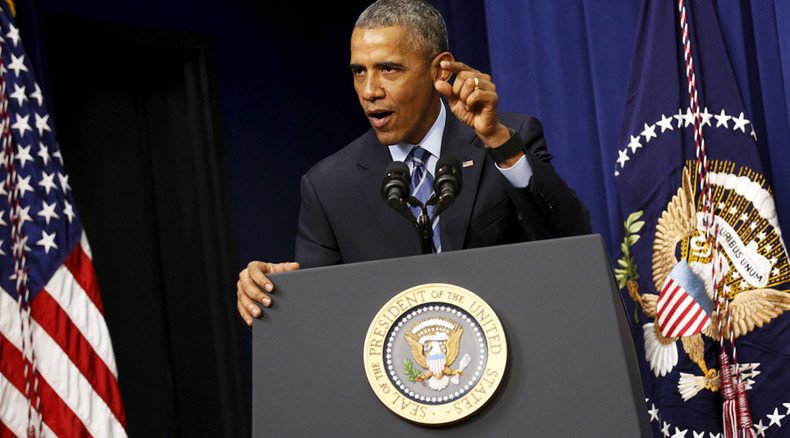 American nuclear scientists, Nobel laureates and physicists with Q clearance, who have access to top secret atomic information, have hailed the recent nuclear deal with Iran, saying that it provides a basis to curb proliferation in the Middle East and globally.
Twenty-nine top US scientists, experts in the fields of nuclear weapons and arms control, wrote a two-page letter to President Barack Obama on Saturday, the New York Times reported.
Congratulating the president's team, the scientists called the successful reaching of the nuclear agreement in Vienna in July "stringent and innovative," able to provide "a basis for further initiatives to raise the barriers to nuclear proliferation in the Middle East and around the globe."
READ MORE: Cracks in the 'firewall'? Democrats break ranks with Obama on Iran deal
They also cleared away the "concern that the deal will free Iran to develop nuclear weapons without constraint after 10 years," saying the verification procedure within the framework of the deal will last until 2040. Should Iran "head for the bomb," the agreement "will provide strong, internationally supported justification for intervention."
Richard Garwin, 87, a respected Washington adviser on science, was first to sign the letter. The physicist was the author of the first design of the world's pioneer hydrogen bomb. He was accompanied by five Nobel laureates – Leon Cooper, Sheldon Glashow, David Gross, Burton Richter and Frank Wilczek.
Most of the scientists, who signed the letter, have received the so-called Q clearance, which provides access to top-secret atomic or nuclear information.
READ MORE: 'Lies!' Tehran fumes at accusations of activities at Parchin military site
In an interview to CNN airing on Sunday, President Obama called the deal with Iran "better than any alternative."
"I have no doubt that as Iran's economy improved or they got some financial inflows that relieves some fiscal pressure on their military, they may be able to fund some additional [nefarious] activities," Obama said.
A resolution disapproving the Iran deal is to be voted on in the US Congress by September 17, but President Obama has promised to veto it in case of its passing the House and Senate.
READ MORE: No 'unicorn arrangement': Kerry fires back at Senate critics of Iran deal
On Thursday, a senior Democrat, Senator Chuck Schumer announced in a statement that he opposes the deal, saying: "To me, the very real risk that Iran will not moderate and will, instead, use the agreement to pursue its nefarious goals is too great."
Last month, the UK, France, Germany, Russia, China and the US signed the long awaited deal with Iran, giving Tehran sanctions relief in exchange for rejecting of pursuing a nuclear bomb and allowing inspectors of the International Atomic Energy Agency (UN's IAEA) into its nuclear facilities.
You can share this story on social media: