Nagasaki bombing 70th anniversary marked by calls to abolish nukes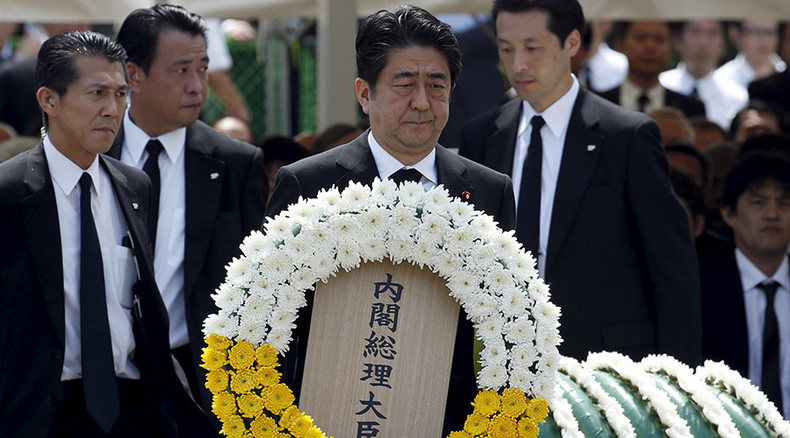 Memorial services for the victims of the US '1945 atomic bombing of Nagasaki that claimed over 74,000 lives have taken place in Japan, with calls to abolish nuclear weapons and prevent Tokyo from loosening restrictions on what its military can do.
Bells tolled as survivors, the relatives of victims, as well as representatives from 75 countries, including US Ambassador Caroline Kennedy, gathered at Nagasaki Peace Park to mourn the victims of the horrific blast.

"As the only nation in the world to have suffered a war-time nuclear attack, I have renewed my resolve to play a leading role in pursuing a world without nuclear weapons and maintain the three non-nuclear principle," Prime Minister Shinzo Abe stated, referring to Tokyo's policy of not possessing or producing nuclear arms and prohibiting their entry into the country.
In a similar ceremony, held for atomic bomb victims in Hiroshima on Thursday, Abe did not make reference to the traditional non-nuclear principles for some reason, facing a wave of criticism from ageing survivors and opposition lawmakers.
The attack on Nagasaki, with the bomb dubbed "Fat Man", came just three days after American B-29 bomber, the Enola Gay, dropped another bomb, dubbed "Little Boy", on Hiroshima – the first atomic bombing in history. As many as 140,000 people are estimated to have been killed in the Hiroshima attack, including those who survived the blast itself but later died from radiation sickness. At Nagasaki Peace Park, the prime minister's calls for abolition of nuclear weapons received mixed reactions.
A representative of Nagasaki bomb survivors told an annual ceremony that security legislation introduced by Abe's government is out of tune with the wishes of the survivors, and "will lead to war."

"We cannot accept this," said 86-year-old Sumiteru Taniguchi.

In May, Prime Minister Shinzo Abe's cabinet approved legislation authorizing Japan to expand its military capacity beyond self-defense, enabling it to play a greater international role. If passed into law, the bills would overturn a pacifist constitution signed by Japan after its defeat in World War II, which banned the use of force as a means of settling international disputes.

The controversial legislation (currently under consideration by parliament) would ease constitutional limits that restrict the military to self-defense, allowing Japanese forces to defend allies in certain circumstances. Japan's Defense Minister Gen Nakatani caused a furore on Wednesday when he said that the proposed bills would not rule out the military transporting foreign forces' nuclear weapons.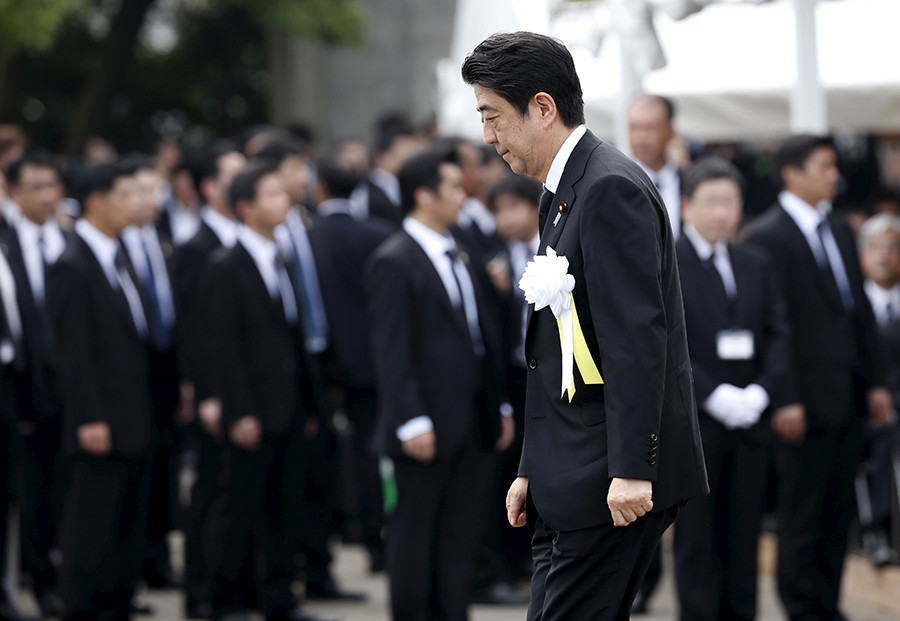 The bills have already passed the lower house and are likely to win further support, given that Abe's ruling bloc also has a majority in the upper house. The Japanese public has slammed the proposed bills, calling them "war legislation" aimed at turning Japan toward militarism.

Nagasaki Mayor Tomihisa Taue, who also attended the official morning ceremony on Sunday, highlighted a "widespread unease" about the legislation.

"I urge the government of Japan to listen to these voices of unease and concern," Taue said. "Anxiety and concern are spreading," he noted, according to The Asahi Shumbun.
A message from UN Secretary General Ban Ki-moon also reflected calls by Nagasaki Mayor to abolish nuclear weapons.

"I wholeheartedly join you in sounding a global rallying cry: No more Nagasakis. No more Hiroshimas," Ban said in a message read by the acting UN high representative for disarmament affairs, Kim Won-soo.
Last month, reports emerged that Japan had allegedly shown interest in joining a NATO missile-building consortium, so Tokyo can take part in a multinational defense project. The US supports a plan that could enable Japan to lead similar alliances in Asia, according to a report. In May, Japanese naval officers traveled to a NATO meeting in The Hague to get more information about the 12-country consortium, which oversees development and shares the costs of the US-made SeaSparrow missile, Japan's Navy and a US source familiar with the trip told Reuters. The advanced ship-borne short-range weapon is designed to destroy anti-ship sea-skimming missiles and attack aircraft.
Prime Minister Shinzo Abe and his Liberal Democratic Party (LDP) are also considering the introduction of an overseas intelligence network, possibly modeled on Britain's MI6 spy agency, the first of its kind since World War II, Reuters reported in March.

When the Allied forces defeated Japan 70 years ago, they also demolished its intelligence apparatus, which had allowed Tokyo to become a self-reliant Asian powerhouse at the time. This left Tokyo largely dependent on the intelligence work of other nations, notably the United States. The current stance in Japanese political circles is that the nation must reassert itself in the international spying arena.
Earlier this year, Tokyo approved its largest military budget in 70 years, raising it to nearly 5 trillion yen (US$42 billion). Last year, Japan lifted a self-imposed four-decade ban on selling weapons. The new export guidelines will "help maintain global peace and security," the government said, according to the Japan Times.

Japanese media reported that Abe will not visit Tokyo's controversial Yasukuni shrine for the war dead on August 15, which marks the 70th anniversary of Japan's surrender to the Allies in World War II.
Abe's private visit to the Yasukuni war shrine in Tokyo in December 2013 provoked outrage from China and South Korea, the countries Japan occupied until its defeat in 1945. Among the 2.4 million war dead honored at the shrine are internationally recognized war criminals, who committed atrocities on the occupied territories.

But even if Abe chooses not to attend Yasukuni this time around, he may come under fire again, should he omit an apology in a statement expected to be released later this week. Abe said his statement will express "remorse" for Japan's wartime actions, but according to local media, the key word – "apology" – is unlikely to be included.