'Norway, Norway, out of NATO': Bloc's chief once sang 'hit' from booklet with Lenin pic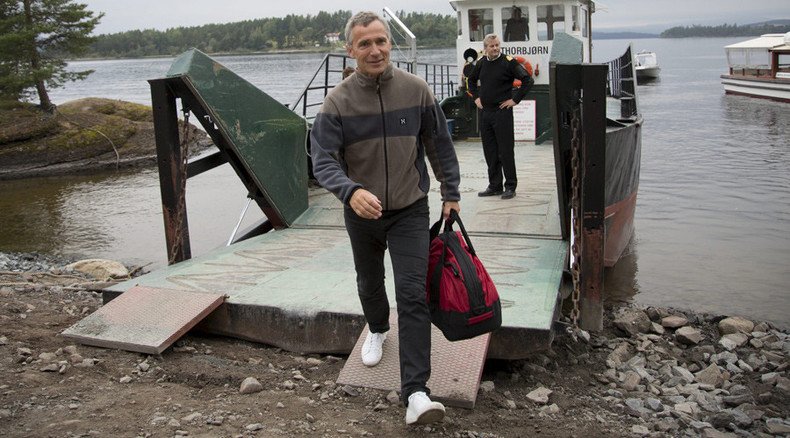 NATO Secretary-General Jens Stoltenberg confesses he hasn't always been a fan of the alliance he now heads. There were times the teenage Jens enjoyed an anti-NATO song written on a booklet with a picture of Soviet leader Vladimir Lenin.
"We sang the chorus, 'Singing Norway, Norway out of NATO'. It was a hit," Stoltenberg joked to the Workers' Youth League (AUF), reported NTB news wire. NATO chief added that they were singing the anti-NATO songs from a "booklet with a picture of [Vladimir] Lenin on the first page."
Stoltenberg, 56, made his remarks when he and the young people arrived on the island of Utoya for the re-opening of the AUF-run summer camp. The site has been closed since mass killer Anders Breivik opened fire there back in 2011, killing at least 69 people.
"The horror that happened in 2011. It's going to be a part of Utoya history for all times to come," Stoltenberg said.
READ MORE: Norway mass killer Breivik admitted to Oslo University political science program
The anti-NATO songs were apparently sung when the current NATO chief first spent a summer in the Utoya camp somewhere around 1972-74 when he was 13-15 years old.
However, between 1985 and 1989, when he was the leader of the Workers' Youth League, he changed his 'tune' and became a supporter of NATO.
Apparently, a 'love' for Lenin grew in Stoltenberg due to his sister Camilla, who was a member of then Marxist-Leninist group Red Youth, which still exists in Norway. Together with Camilla he took part in rallies against the US war in Vietnam.
Up to the 1990s, Stoltenberg reportedly had close ties with a Soviet diplomat who turned out to be a KGB agent.
Now Stoltenberg is an active supporter of NATO and has recently announced the alliance plans to extend its Response Force to 40,000 troops from current 13,000. He believes that strong defense is a precondition for a dialogue with Russia.
READ MORE: NATO to boost special defense forces to 40,000 – Stoltenberg
You can share this story on social media: