'Jail in Germany is preferable to freedom in Syria' – German ISIS defector
Published time: 6 Aug, 2015 22:25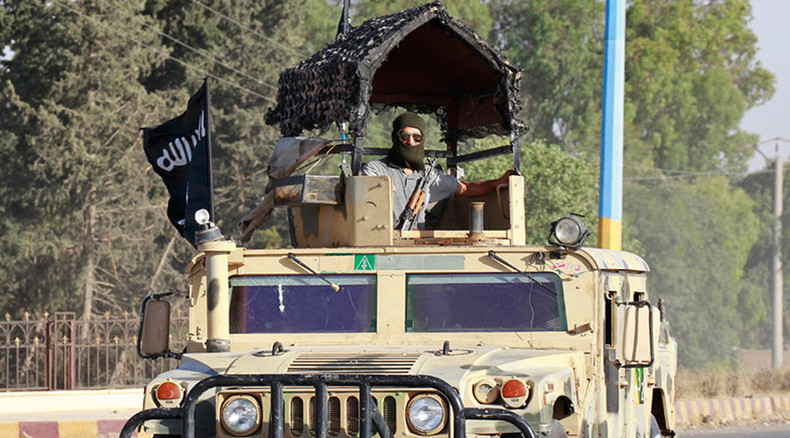 Two Germans who fought for ISIS are standing trial back home and are giving deep insights into the life of foreign fighters in Islamic State.
One of the two young Germans who recently fled Islamic State (IS, formerly ISIS/ISIL) has given an interview to the German broadcasting corporation ARD to "speak openly" about their experiences, despite standing trial in Germany on charge of joining a terrorist group and planning acts of violence against the state.
Although facing a potential jail term of 10 to 20 years, the IS defector called Ebrahim B. claimed to have gone through such horrible atrocities during three months in the Islamic State that "for him jail in Germany is preferable to freedom in Syria."
"When you want to stop [Islamic State] from deep in your heart, you go public and you talk about it," he told ARD explaining his determination to speak publicly about his life in the militant camp.
READ MORE: ISIS threatens revenge on Merkel in German-language video
Ebrahim B. said that he, together with another defector called Ayoub B., was deceived into joining Islamic State by a "false preacher" who recruited the young Muslims in the German town of Wolfsburg.
The preacher convinced about 20 young men to join the jihadists promising that they "would drive the most expensive sports cars and have many wives" and speaking more of religion than of fighting. At least seven of these recruits have already lost their lives in clashes, ARD reports.
"You will see the lights of Turkey and you can come back whenever you want," the recruiter said as cited by Ayoub B. during the trial, adding that young Muslims went to Syria "to learn more about their religion."
Ebrahim B. and Ayoub B. traveled to Syria through Turkish territory in June 2014 and spent three months with IS militants.
However, reality turned out to be imprisonment, coercion and fear rather than luxury and religious learning.
READ MORE: ISIS branch in Egypt threatens to kill Croatian hostage 'in 48 hours'
Soon after the Germans came to Syria the jihadists confiscated their phones and passports and locked the young men in a guarded facility. All foreign recruits were placed in special camps near the Turkish border, where the IS militants checked and tested the trustworthiness of everyone before letting them into the IS-controlled territory.
"We had to hand in our phones otherwise they would shoot us," said Ebrahim B.
"I was really surprised by the fact, that they had information on everyone, every new recruit. Islamic State has a sort of internal intelligence service; they knew everything even about my father," he added.
After completing the initial combat training, Ebrahim B. was given a choice to become either a frontline fighter or a suicide bomber – "a choice between death and death," as he told ARD.
"[Foreign fighters] are used as cannon fodder," he told the television channel. "There is massive pressure put on you to go and die. When they can't convince you to do it they force you."
READ MORE: ISIS claims responsibility for Saudi suicide bombing
While being in a training camp for suicide bombers, Ebrahim B. heard a Saudi man being tortured to death on suspicion of spying. His corpse was later put in front of the others to intimidate them and make them obey.
"This horrible scene haunts me in my dreams every night," recalled Ebrahim B. on what he saw.
In the letters to his family, Ayoub B. also wrote about the horrors of life in Islamic State and claimed to have regretted his decision to join the extremists.
"I'm afraid of being caught. They think I'm a spy," he wrote to his brother.
"I needed to get out. It was enough what I experienced," he messaged another friend, as quoted by ARD.
In the interview, Ebrahim B. claimed to have escaped the fate of a suicide bomber by hiding on a roof and later escaping the ISIS-controlled territory but German prosecutors said he was stopped by Iraqi police on his way to carrying out a suicide bombing.
Disillusioned and fearing for their lives, the two defectors left Islamic State and returned to Germany where they were arrested.
Islamic State put both defectors on the death list for "betrayal and return to the infidels."
"I want clearly distance myself from Islamic State. These people have nothing in common with Islam," Ebrahim B. told ARD.